I'm Elycia, the lady behind
♥elycia
. I am crazy about taking photos, dancing to oldies, my cats, my husband, my son, dressing in silly outfits and colour. Well I'm crazy about other things too but if I keep going this list could get seriously long. I live in Hamilton, Ontario (Canada!!) with my husband and our three cats, Anakin (orange), Farva (black & white) and Princess Log Lady a.k.a. Pinny (another orange kitty). In June (3 weeks early!)
we welcomed our son Milo
into the family and he has since stolen all of our hearts. I'm just assuming he has stolen the kitties hearts because they haven't bit him or anything. Good assumption right?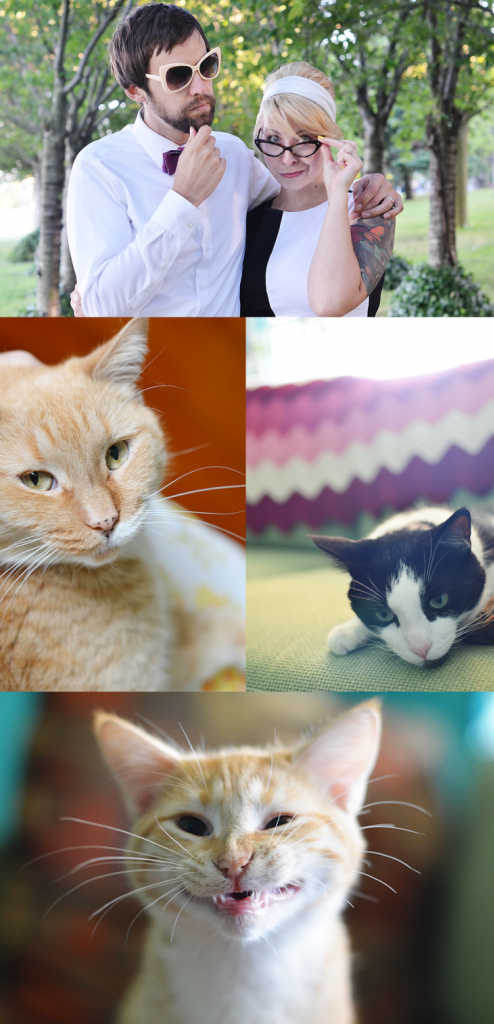 I'm having a blog identity crisis with my role as a new mom but I used to blog about things that I find fun and interesting such as
things I wear
, my adventures in decorating our
home
,
projects
I'm working on, things I
doodle
,
daily life
,
cats
, my ever-changing
hair
, the occasional
recipe
and
DIY
,
thrift finds
,
photos
I take,
vlogs
I make and fun
collaborations
with some of my favourite bloggers. Now I mostly just blog about my 365 project, and Milo. I'll sort through my issues soon enough and eventually get back to normal but with some extra baby stuff thrown in.
All the things I blog about are things I really love, blogging just gives me a way to organize it all.
If you want to know even more about me (I am so multi-dimensional it will blow your mind!) you can sort your way through the depths of my mind in
this series of posts
. In case you haven't already noticed, I think I'm really funny so please don't take anything I say too seriously. Enjoy your stay!
♥elycia