I have meaning to do a 'what's in my bag' post forever. I just got a new camera bag and filled it with essentials so here goes...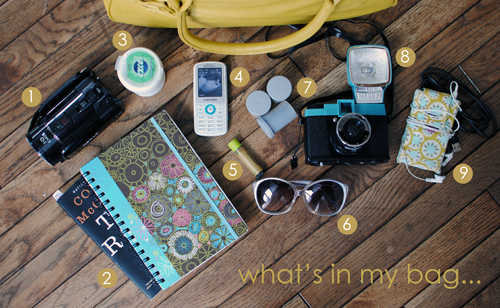 1. video camera
- Ivan and I just got this so we're really excited and bring it everywhere...this probably will only stay in my bag on weekends.
2. notebook and reading book
- I keep the notebook for ideas (this one has mostly wedding stuff) and the reading book for if I end up somewhere boring. find out
what i'm reading here
!
3. gum
- essential for possible bad breath situations
4. cell phone
- I am dying for an iPhone but this will do for now...I guess.
5. lip balm
- this one is Zen from Funk Off! So amazing!
6. sunnies
- I got these ones thrifting. By far the best sunglasses i have ever owned. I am super rough on my sunnies and these ones have lasted the longest any pair ever has!
7. extra film
- I'm thinking of making little pouches for "used" and "unused" film. These are all unused.
8. Diana F+ camera
- I am sooo excited about this camera. I got her a few weeks ago and just finished my first roll on the weekend. I haven't developed it yet but I'll keep you updated.
9. zune
- sooo, they don't even sell Zunes in Canada anymore but I love mine. I keep it with me so that I can listen to episodes of the Office while I'm at work, haha.
*not pictured*
- my Nikon D3000 (I need to take the photos with something!)
- a pen (oops, it was in the back pocket)
- my blog schedule book (also in the back pocket)
- my wallet...kind of important, i almost went out without it!
- if you're wondering about my keys...in the winter I always keep them in my coat pocket.
I thought it would be fun to show you what my bag looks like after using if for a few weeks. I manage to collect so many random bits and pieces over time. It will be interesting. Stay tuned.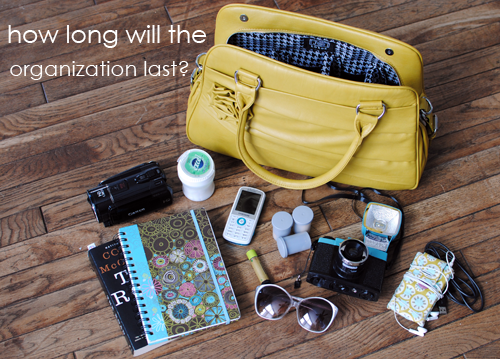 ♥elycia