Hi!
A little while ago, after seeing
this
and
this
, I decided that I wanted to make all of the bouquets for the wedding out of fabric. I finally went fabric shopping yesterday to pick out some pretty ivory and yellow fabrics because tomorrow I'm having a few helpers over to work on the bouquets. When I got home from fabric shopping I got kind of inspired and couldn't resist testing out a few flowers.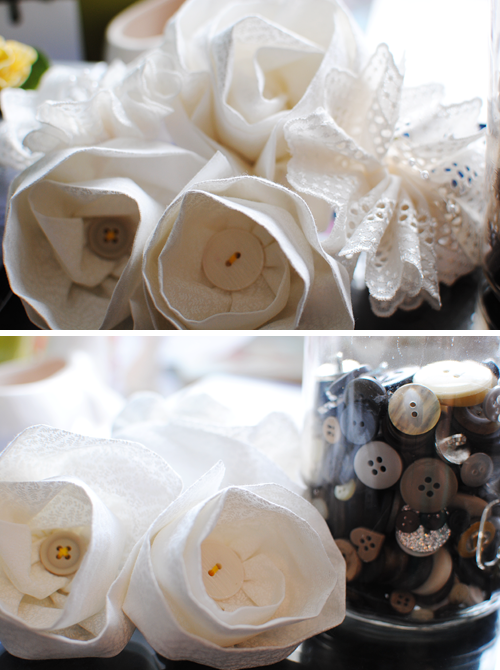 The photos don't really show a lot of detail but the ivory flowers look soooo prety! I am super excited about finishing the bouquets and although having people helping me usually stresses me out (I can be super picky), I am excited to have some extra hands for this project.
I also tried my hand at a boutonniere. I'm not sure if all the boys will need one or just Ivan because he might be the only one wearing a jacket. Either way I think it turned out pretty cute! I got inspired by
this one
then just kind of made it up as I went along. So what do you think...with or without the leaf?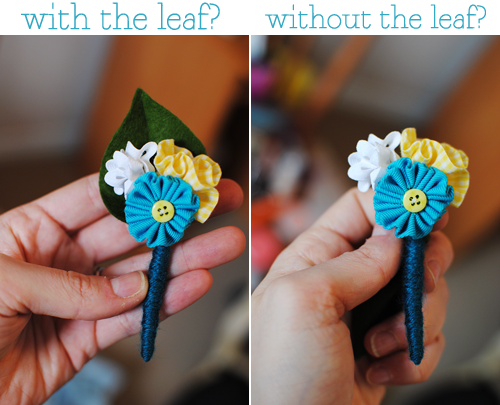 If anyone is interested I could possibly put together a DIY to show you how I made the bouquets and the boutonniere.
Yeah! I'm so excited about working on these more tomorrow! Today we're going to spend as much time outside as possible! It is beautiful out!
♥elycia