As I mentioned, I have had wedding showers the past two weekends. The first one was put on by Ivan's mom and the second by my dad's three sisters. They were very different from each other and both were lovely. I was a bit nervous about being the centre of attention at the showers but I really enjoyed myself and felt great that so many people wanted to do something special for me. (although my "speeches" were painfully awkward and i'm sure very uncomfortable to witness, ha!)
Here are some photos from the first shower...actually just one photo.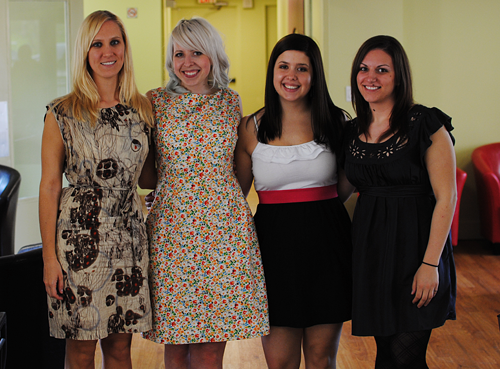 My mom has a bunch of great photos being held hostage on her camera. Ivan's mom's husband is a chef and he and Ivan prepared an amazing vegan meal for everyone. We also had tons of desserts which were also vegan (almost all of them!). It was fantastic!
___________________
The second shower was at my aunt's house up in Strathroy. My aunt and cousin did an incredible job decorating, everything looked so cute. It was a very special day; I received some of my Grandma Watson's old things and my cousin made me a corsage out of our Grandma's old fabric and buttons. My Grandma Watson was a very crafty lady and way ahead of her time when it came to recycling/repurposing/restyling/reusing. Another thing my Grandma used to do was take a person's name and write a word that describes them for each letter. My aunts did one for me and it was so sweet!
However, dumb dumb elycia left it at their house so I can't share it with you!
Here are a few photos from the day.
While the ladies were doing the shower thing, the men and boys spent the day together.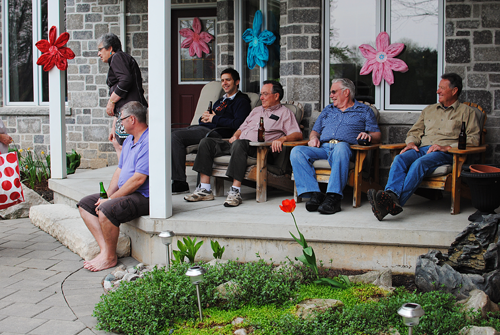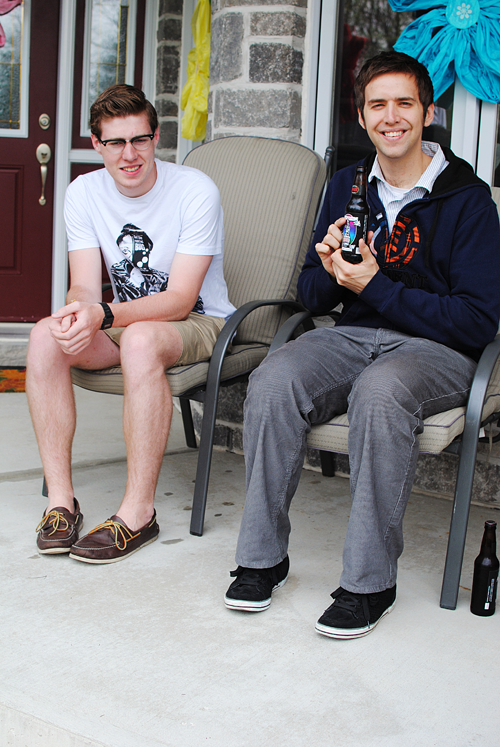 Ivan and my cousin (actually 2nd cousin). Aren't his glasses awesome?!
my 2nd cousins, my cousin (MOH) and one of the bridesmaids! My mom told us to pose like this, haha!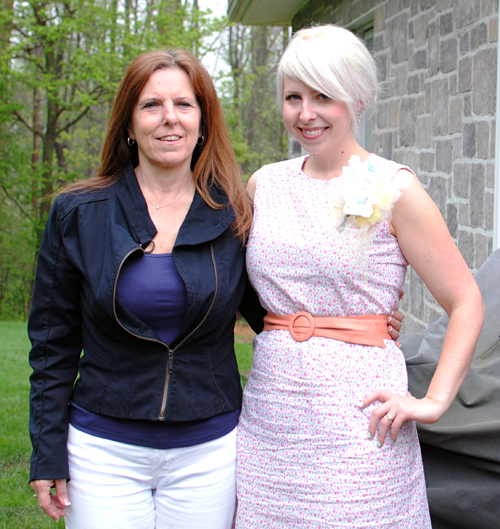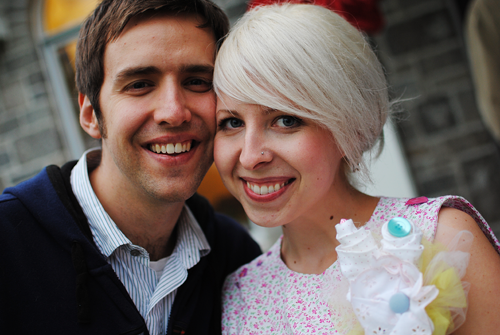 my new favourite photo of ivan and i. you can get a good look at the corsage too! I love the turquoise button!
We also had a bit of Instax fun. Everyone loves this camera! People were saying that when my cousin and I stood next to each other they felt like they were back in the 50s. I'm ok with that! So...I made him take an instant photo with me, haha. Time warp?
Oh, and by the way, this cool guy and his vegan friend made me the best vegan cupcakes ever! Chocolate cupcakes with a raspberry inside and chocolate ganache! So sweet (the cupcakes, and the fact that they made them).
And, as
Thursday
pointed out, it's not a shower unless you end up wearing something covered in bows...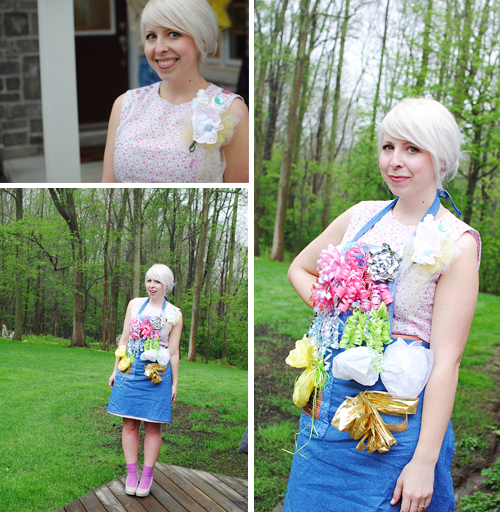 Haha! I actually kind of loved this bow covered apron (my aunt made the apron!). I left it on way longer than required.
I really love spending time with family and friends and I absolutely can't wait to have everyone together at the wedding!!
♥elycia