Ever since Ivan and I bought our home in October we have been looking forward to Spring. Other than the obvious reason of Winter sucking (sorry Winter, I guess you can be ok sometimes), we have just been looking forward to having a garden. Our backyard already came full of fruit trees; 2 pear, a peach and a plum as well as a grape vine. Just over the weekend my mom also noticed a little strawberry plant in a big pot in the back as well as some other berry bush that has spilled over from our neighbours yard. I will gladly take fruit spill over! Our fruit trees have already started blossoming and so far the plum tree is the prettiest.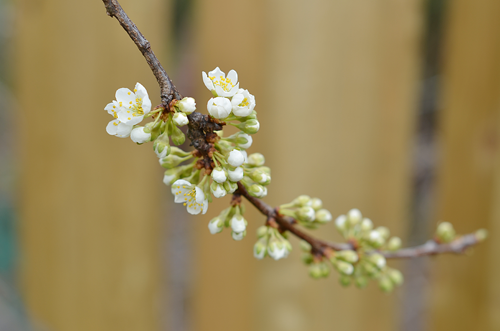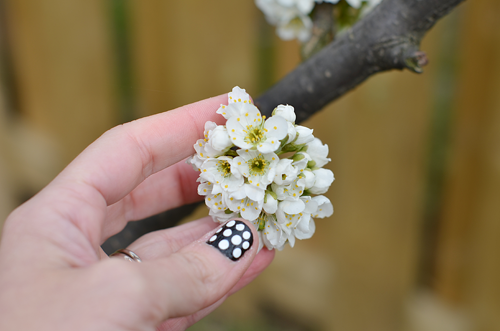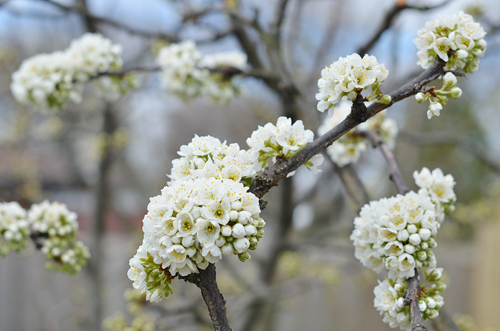 They smell great too! There are two main branches of the tree and one is blooming while the other is just budding.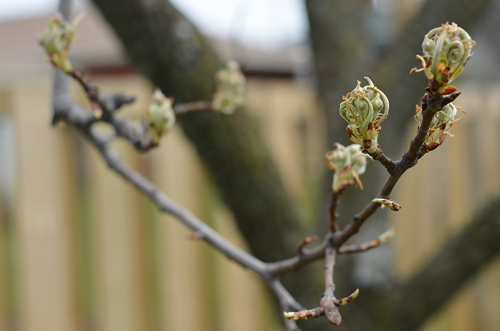 The photos right above are from one of our pear trees. Below is our little peach tree; I don't think it will get any fruit this year but I can't wait until it does.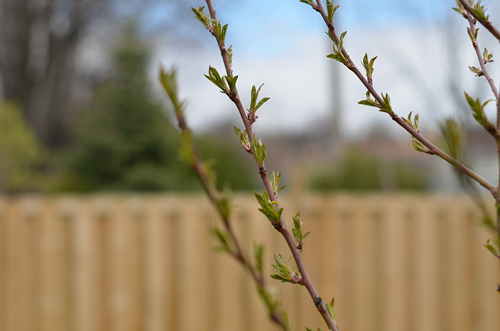 Our fruit trees and grapevine were majorly overgrown so our neighbour (who is the nicest man ever) helped me prune the grapevine and then came one afternoon and chopped our trees into shape for us. I learned a bunch from him, our trees look great and our backyard looks bigger because it is not being taken over by branches.
On Saturday Ivan and I started digging up the area that will be our veggie garden. I'll share some photos of that another time. We are beyond excited about growing as much of our own food as possible and because we are planning on growing so much I feel like I will be spending a lot of time in the garden this spring and summer. Just call me Farmer Elycia.
Do any of you have fruit/vegetable gardens? What is your favourite thing to grow? We are still planning what we want to put in so I would love some personal favourites!
♥elycia