It has been a really long time since I have shared what is in my bag. That's probably because my bag is usually filled with receipts and extra Subway napkins for nose blowing emergencies. The napkins are for nose blowing, not the receipts. I thought I better clear that up.
Today I thought I would share what I typically carry in my purse and soon I will show you what has been in my camera bag recently.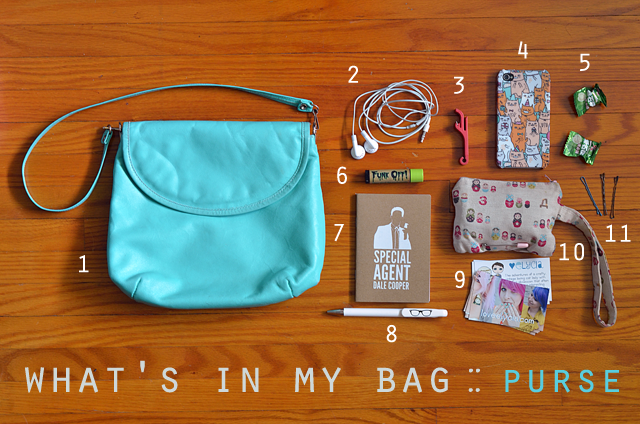 1. The purse itself :: I get a lot of questions about where I got this purse and people are always disappointed when I tell them it was thrifted. The colour is one of my favourites and it is the perfect size for everyday use.


2. Headphones :: These live in my purse just in case I find myself in need of music while I'm on a walk.


3. Bottle opener :: You never know when you might need a bottle opener. I'm pretty sure Ivan recently snuck this into my purse.


4. iPhone with my fancy new
iconemesis
Kitty Pattern
case :: I am gathering quite the collection of cat cases. Thank you iconemesis for sending me this one! I absolutely love it.
5. Candy :: This candy came from our favourite sushi restaurant
Go Tempura
. They are so nice there and always tell us to take extra candy.
6. Lip Balm ::
Funk Off!
makes some of my favourite!
7. Notebook :: Super awesome notebook from a
super awesome friend
. I start all entries with "Diane..." (kidding)
8. Pen :: This is definitely a pen. Everytime I post a photo of this pen at least one person thinks it is a pregnancy test. Ha!


9. Blog business cards :: For all my blog bidness.


10. Wallet :: Really this is more of a change purse but it holds everything. I made this for myself quite a long time ago and I was too lazy to sew up the bottom so it is held together with a diaper pin from when I was a baby!


11. Bobby pins :: These are for picking locks. Ok, maybe they are just for my hair.
In case you would like a better look at my phone case (because it is totally awesome) here it is...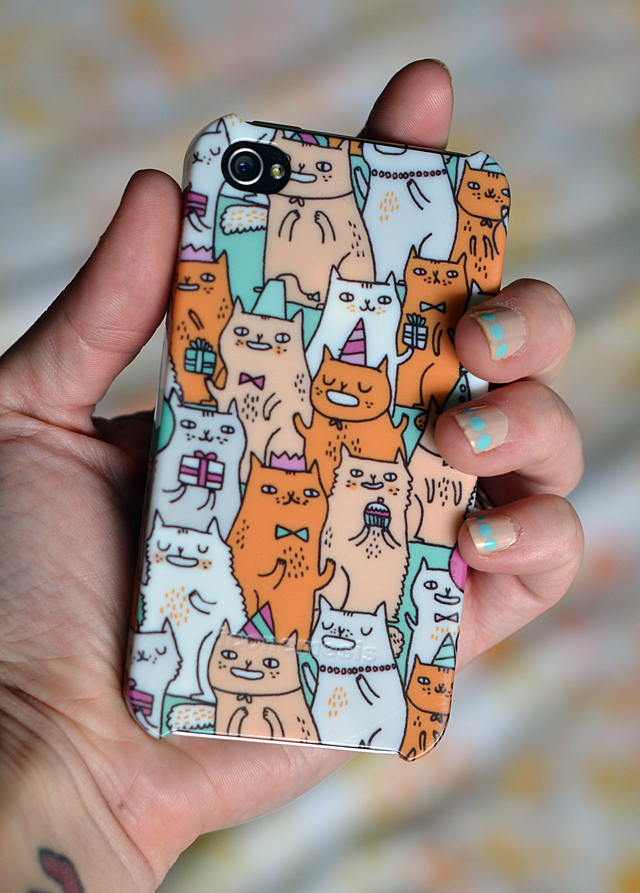 You really can't beat a cat party, especially one drawn by
Gemma Correll
. iconemesis was nice enough to send me this one but if you want to pick one up for yourself they are offering a 20% discount with the code ICON220.
Want to show me your bag and what's in it?
♥elycia