Back in December or January when I was shopping for paint for my office I came across some whiteboard paint. I had never heard of it before but I decided to try it out because I thought it would be fun to turn the closets and doors in my office into whiteboards. I bought mine at Home Depot but you can
get it here
as well if you are interested!
Hehe! Do you like the drawing on the left hand side? I drew the kitties and then when I was away a few months ago Ivan added himself and "Family Miss You".
During the last few weeks I have been using the right side to keep me focused on the things that I need to get done. Everyday I change the date and evaluate my list to see what needs to be added, subtracted and completed. Don't mind my messy writing, I think of things faster than I can write in most cases!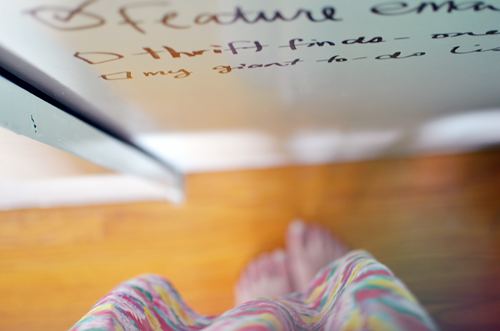 A few things about this paint in case you are interested in trying it out:
1.You can't store it so you need to either use it all once you open it or be ok with throwing some in the trash. One can painted this double door closet as well as the back of my office door.
2. My doors where a light wood colour so I primed them with white paint before finishing with the whiteboard paint.
3. I believe I did 2 coats and I found it a little difficult on the last coat because I think the paint had thickened a smidge. I have a few globs here and there but I think that I would be able to eliminate those if I painted something else now that I know what to expect.
4. I left some whiteboard marker on for quite a long time and some colours left stains when I tried erasing them. I haven't tried any of that white board cleaner so I still have hopes that I will be able to get them off. Black seems to erase really easily so that is what I have been using.
Ok, so I think my notes about this paint make it sound kind of awful but I really do love the result and the fact that I can write all over my doors and closets!
Have you tried whiteboard paint? What do you think of it?
♥elycia