hi friends! i am super excited to share this giveaway with you! I will let Candace take over and tell you about herself and the lovely giveaway she has for you guys!
Hi! I'm Candace a vintage pyrex hoarder, adventure thrifter and practicing artist from Ft. Worth Texas. In 2010 I started blogging and turning my creativity into a career opening Luxe Stitch Vintage. I now reside and practice my craft in the snowy state of WI, with my boyfriend Brett and our super fat black cat, eyeballs. Up-cycling vintage is a big part of my business, I love to shorten, crop and revisit my fabulous finds to tailor them to the modern lady. My goal is to bring a great selection of vintage goods to you at a reasonable price! I'm constantly on the hunt for items and try to keep fresh picks in house.
Luxe Stitch is turning One this year and to celebrate our first year in business we have a present for one lucky winner! Up for grabs is this Teal American Tourister Travel bag, a Sweet Owl Coffee Mug and celebration pennant made by Luxe just for you! If you can't wait to win and you want to get some Luxe items of your own enjoy 15% off all purchases in February using etsy code BIRTHDAY at checkout!
EDIT: someone said the code didn't work, for now try KYLAROMA (that's posted on Candace's blog as a code for 15% off)
2nd EDIT: BIRTHDAY should be working now, but you can use either code! thanks!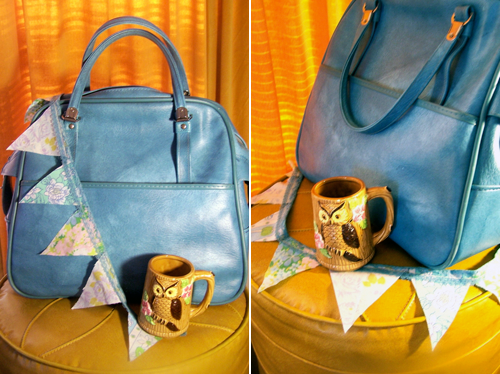 How to Enter:
Visit Luxe Stitch Vintage and leave a comment telling me your favourite item!
Extra Entries:
1. Visit Candace's blog and say hello! Maybe even add it to your reading list :)
2. Tweet or blog about the giveaway and leave the link.
3. Tell me your favourite trend for 2011!
Don't forget to leave your email address or a way to get in touch if you are the lucky winner! I will announce the winner Friday February 18th.
♥elycia