Hi!
On Sunday I went with Ivan's cousin and aunt to a sample sale. I had never been to one before. This was in Mississauga at a kind of warehouse I guess. There were all different things going on in different parts of the building, including a pet show! Unfortunately I didn't check out the pet show. I was hoping to find wedding shoes at the sale but no such luck...I'm kind of running out of time. (
I actually found a pair on ModCloth last night that would have been perfect but they were sold out already!!
)
Anyways...I didn't take any photos in the shoe part (I should have, there were rows and rows of shoes!), but I did snap some photos of some belts that I wanted to buy but resisted the temptation. (
my trick
worked this time) I am trying really hard not to spend money!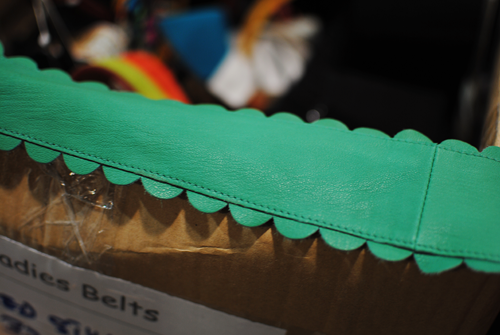 Eeep! Aren't those awesome? I think I might try to make one like the one with the scallops. So pretty!
What did you get up to this easter weekend?
♥elycia
ps. have you entered the
giveaway
?
pps. i totally forgot to mention this before but I did a
little video
for
Lauren's blog
party last week.