Hey friends! Remember this dress?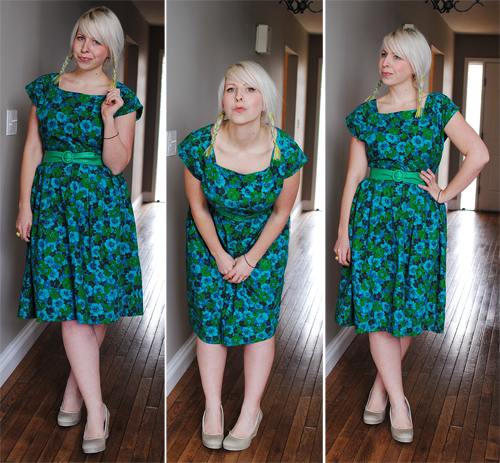 It came from a lovely Etsy shop called The Paraders. Today Rachael from The Paraders is here to tell you a bit about her shop and offer up a super sweet giveaway! Take it away Rachael.
_________________________________
Hello! I'm Rachael Hammon, owner and creator of The Paraders. The Paraders began in 2010 out of a severe desire to create. After a couple of lowly retail jobs got the best of me, I decided to try my hand at entrepreneurship...a deeply engrained lifestyle in my family. Since then, I've learned by leaps and bounds the ins and outs of etsy, vintage style, and how to make it work.
Learning is a continual process and I'm excited that my work affords me to constantly learn, make, and do. Vintage clothing has always held my interest, but not nearly as much as it has lately. A history of dress is more than just clothing...it's a deep look into the past and tiny glimpses into lifestyles of ages gone. It thrills me to work with such wonderful items and people.


Since the start of the Paraders, the shop has grown into place full of wearable vintage that makes you look lovely and feel lovely too. My blog compliments the shop style with vintage era dating clues, vintage buying and styling tips, and my adventures through and aside from the shop. I do hope you take a look at the Paraders shop and blog as well as our facebook - letting you know about exclusive sales and products. Also, as our shop expands into a full-blown independent website over the next month, please stay in touch with the Paraders to hear all about what it takes to jump from Etsy into a bigger, scarier market. Thanks so much for listening and have a wonderful day!
XOXO
Rachael
The Paraders •••
_________________________________

Up for grabs in the giveaway is a $50 gift certificate to The Paraders!
How to Enter:

please leave some way for me to contact you if you win!
Visit The Paraders and daydream about what you would buy if you won. Share your favourite item in the comments!
Additional Entries:

please leave a separate comment for each entry.
• follow The Paraders blog
• like The Paraders on Facebook
• follow The Paraders on Twitter
• sign up for the weekly newsletter
I will announce the winner on July 6th!
♥elycia