Just over a week ago I decided to give myself a haircut. My hair was pretty mad at me pre-haircut because I have not been treating it that nicely. It was breaking like crazy and basically crying.
So...I decided to chop off the middle layer to around my shoulders in an effort to even it out a bit and make it happier. I have been conditioning like crazy since then and my hair is starting to feel a bit better. Since the cut I have been playing around with different ways to style my shorter hair.
My original plan when I cut my hair was to stop heat styling it and just let my natural curl/wave do whatever it wants. That method of styling is really hit or miss because sometimes the curls are nice and sometimes they are nuts. I got the hair on the left by letting my hair dry naturally with a little bit of product in it. The one on the right came from pinning my hair up in little twists with bobby pins and then sleeping on it.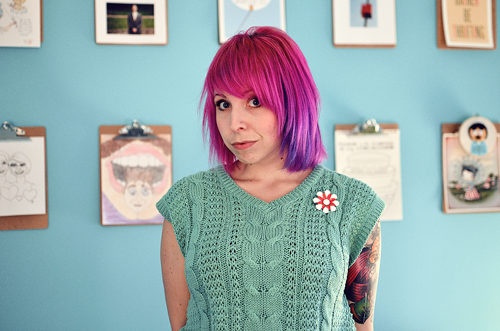 A lot of days I have been running back to my straightener so I don't have to worry about a potential hair disaster that I won't have time to fix.
I had been really in love with high buns before I cut my hair. It is just a smidge too short for them at the moment so I have been playing around with pigtail buns. I love them!
I am definitely still getting used to my new hair but I think it is a good thing that I cut it. Does it take you a while to get used to new haircuts? Anyone out there with hair my length that has a favourite way to wear it?
I hope you all have a great Monday! I always get so excited about the start of the week. So many possibilities! I am even starting to get over my sore throat/cold that suddenly showed up on Saturday, which makes me even happier!
♥elycia