I was going to start this post with some kind of clever riddle but, it's a little too early in the morning for me to be clever. So, instead let me just tell you how excited I am to announce...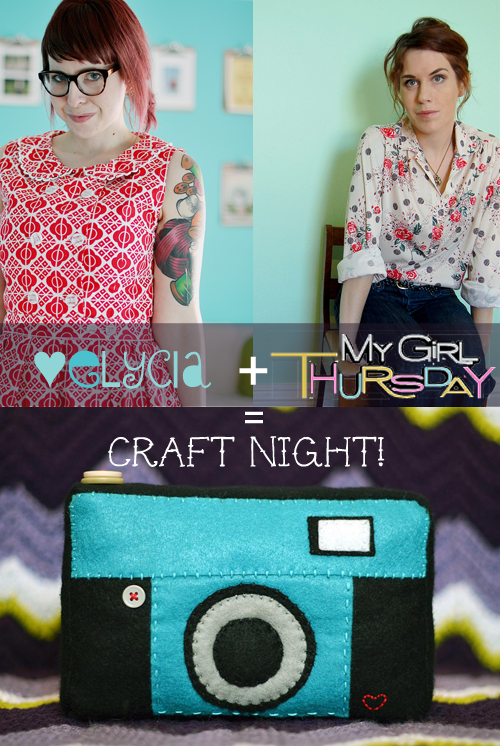 Next Tuesday January 24th
Chantilly
and I will be hosting a craft night where we can all hang out and make ourselves cute little camera plushes. The craft night will be hosted live on
UStream
beginning at 8:00pm EST. We are already so, so excited! If you would like to join in on the craft along you will need the following supplies:
1 small piece of grey felt (must be able to cut a 2.5 inch diameter circle out of it)
1 small piece of white felt
2 buttons approximately 1 inch in diameter (for top of camera)
1 button approximately 1/2 inch in diameter (for front of camera)
Coordinating colours of embroidery thread
Sewing machine (totally optional as you can sew this completely by hand)
We are assuming standard sized pieces of felt (approximately 9"x11.5") The colours of felt given are just a guide so you can see how much felt you need for each part. If you want to make the black part neon yellow you totally can...just make sure you have three sheets of neon yellow felt.
The finished size of this camera is around 5 inches tall x 8.25 inches wide (just FYI) and the pattern pieces you need will be made available the morning of the 24th so that you can print them out if you would like.
It will definitely be a lot of fun which I'm sure will include lots of instances of me trying to be funny, Chantilly actually being funny and possibly even some kittens. There better be kittens. I'm totally leaving if there are no kittens.
Let me know if you think you will be able to make it! I would love to pop by your blog and get to know you if I don't already!
♥elycia