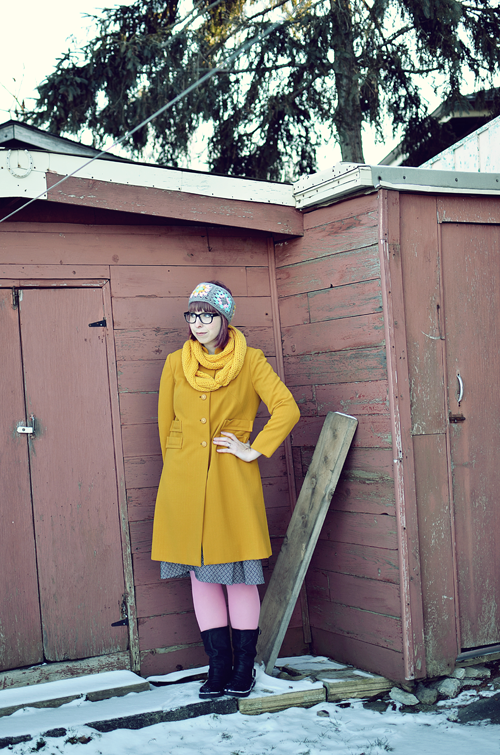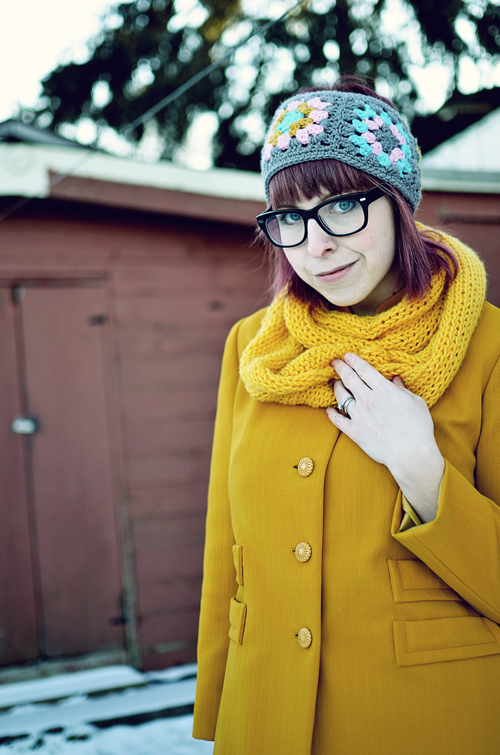 cardigan :: target
skirt :: thrifted
coat :: thrifted
tights :: mall
I have entirely too many things I want to talk about in this outfit post. I'll start with the title. One day, a long time ago, it was really cold out and Ivan announced to me that he was 'frausja'. I was like "what the heck is frausja?' Turns out it was a word he made up to mean really freezing. So now obviously we say that all the time when we are cold. And let me tell you...when I was taking those photos outside, I was fraujjing. See, you can be frausja or fraujjing, it is a very versatile word. Make sense?
Something to help with the fraujjing-ness was my cute granny square ear warmer and my scarf! I love how they came from two different sweet ladies but they match each other so nicely.
Third thing...my coat! I almost fell over when I saw this at the thrift store. It is not exactly a cold winter day coat but it is perfectly fine for milder winter days and quick trips to and from the car. I love it.
Fourth...my boots. I know I always say that I love my Blowfish shoes but these are possibly the best boots I have ever owned. I have been wearing them with absolutely everything and a few times Ivan has said "Those are nice boots but they don't really go with your outfit." To which I reply "Of course they do!". Boys.
Ok, I think I covered everything. Except for that cute hutch behind me. I'll tell you about that another time. Oh and my lack of bright hair. Maybe I don't want to talk about that. I'm sad it's gone so please don't make me sadder by telling me that I'm not fun without it ;). I'm only half kidding. More on that later too.
♥elycia
ps. Ivan and I had a conversation about how we each think "frausja" and "fraujjing" should be spelled. I don't totally agree with this spelling but since Ivan made up the word I decided to let him have the final say.