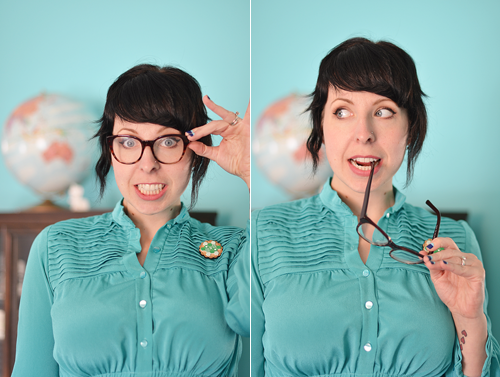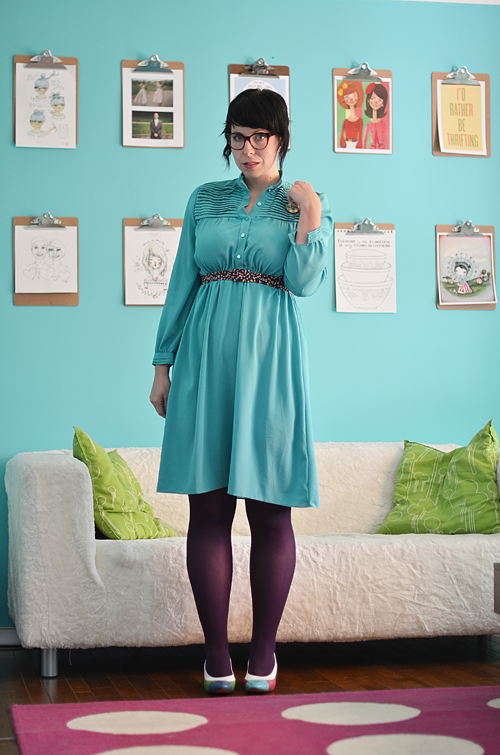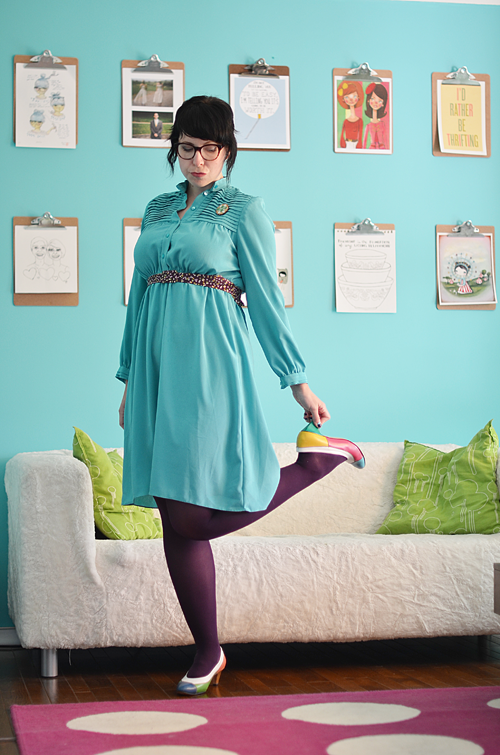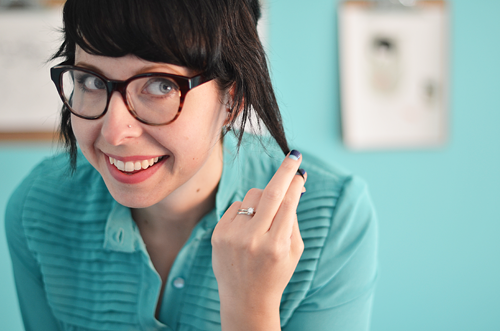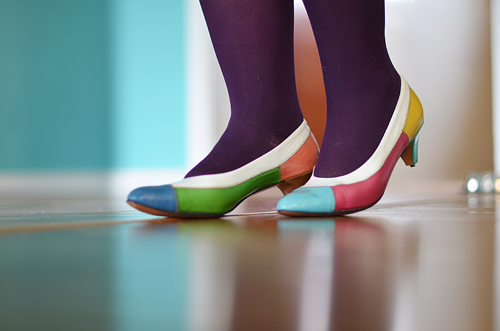 :: head to toe ::
glasses :: Warby Parker
dress :: thrifted
belt :: thrifted
tights :: mall
shoes :: thrifted in Florida
Once upon a time I was a really excellent speller. I just knew how to spell things. And if I didn't my guess was almost always correct. Now, I tried five times to spell "camouflage" and eventually had to Google it because I just couldn't get that sneaky "u" in the right place! I guess camouflage is a bit of a tricky one but I have been messing up so many words lately that I should totally know how to spell. Oh boy.
Moving on...I could totally hide in my home wearing this if I just stood really still against a wall. This dress is such a good match with our walls! I don't wear it that often because it reminds me a bit of a nightgown when I see it hanging in my closet. Then every once in a while I pull it out and remember what a fantastic colour it is and who cares if it looks a little nightgown-y. My solution is to add a belt because people don't wear belts to bed, right?
I definitely can't forget to mention my shoes. I found these babies in an antique store in Florida and I almost didn't get them. I know, I'm crazy! I mean, each shoe is different colours! How could I not buy them? I'm happy to report that I quickly came to my senses and purchased them. You may be able to tell that the plastic part on the heel is missing...it must have been dry and cracked because I kept finding bits of it on the floor while I was taking these photos. So...they need a bit of a repair but no big deal! I mean, each shoe is different colours!
Ivan and I are currently visiting some of our favourite
friends
and getting lots of fun blog stuff accomplished. I am having another
favourite
over this coming week to get even more wonderful things done. It is an exciting time!
♥elycia