Hello,
Do you ever have an inner monologue going while you are taking your outfit photos? I don't always but when I was taking these ones I did. I'm going to say it was because it was pretty late at night (studio lighting at work again) and I was sleepy and had a stomach ache. Whatever the reason, it kept making me giggle and it went a little something like this: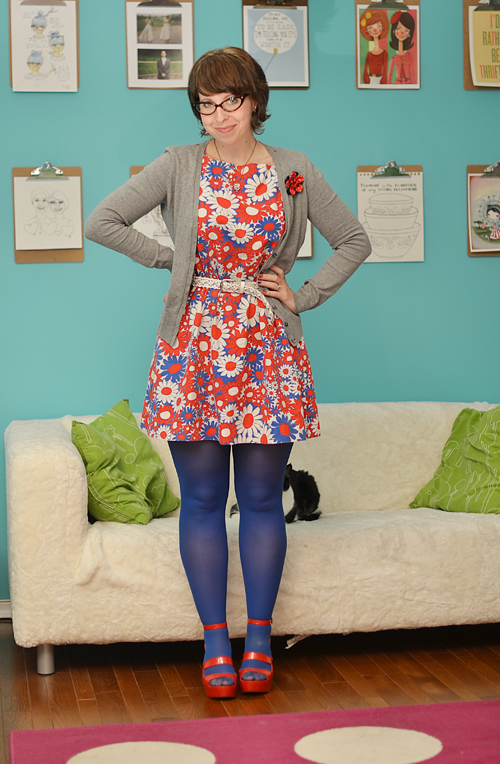 "Ok, stand up straight. Smile! But not a crazy smile, just a regular 'I'm thinking of something funny' smile. Oh wait, am I blocking Farva? That's going to piss people off"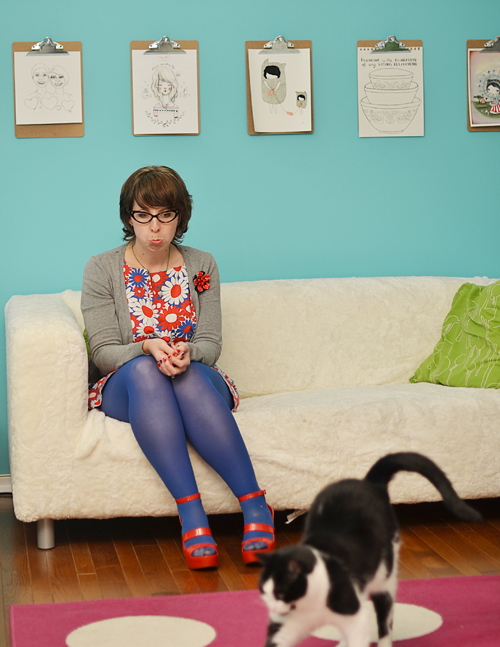 "Oh bummer, Farva left. What a brat. I just wanted to sit beside him on the couch. How rude! Oh, I can't stay mad at you. But I'm still going to make a frowny face when the camera timer goes off."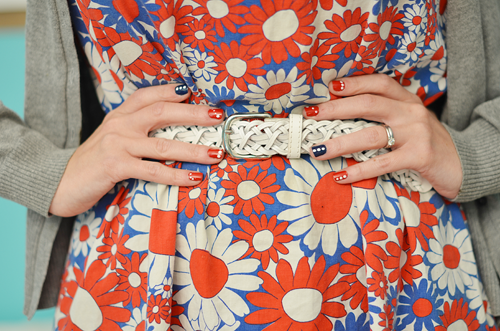 "Oh yeah, who's fancy? Look how your nails match your outfit. Work it! Wait...is it weird that I painted my nails to match my outfit? Oh, who cares!"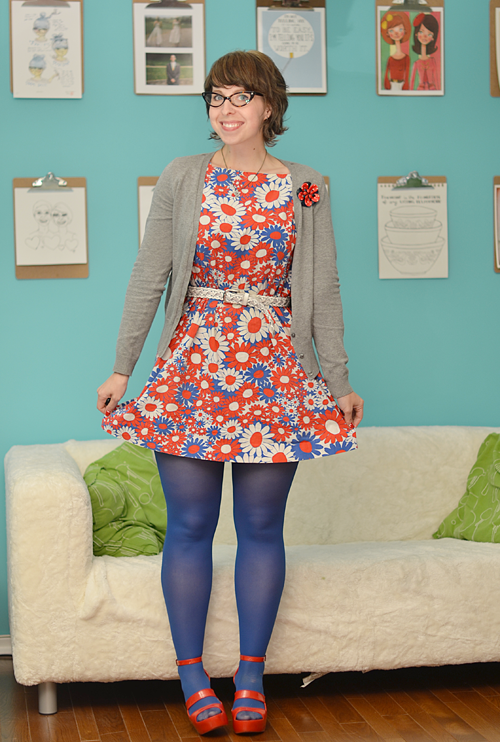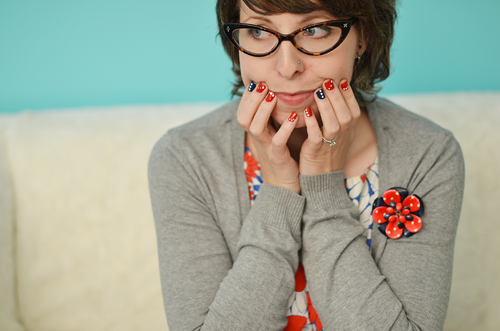 "So, now sit casually on the couch with your hands on your face. Wait, this is kind of casual...I do sit like this often. Even better."
dress :: vintage
cardigan :: H&M
brooch :: thrifted
necklace :: gift from Ivan
belt :: thrifted
tights :: mall
shoes :: Winners
Ok, ok, I know...I'm not funny. I may have elaborated on my inner monologue (dialogue?) a bit but it was happening basically non stop while I was taking these photos. I love taking and looking at outfit photos but I also love making fun of myself because, if you can't make fun of yourself, how in the hell you gonna make fun of somebody else? Maybe not the way RuPaul would like that quote interpreted.
Back to the outfit. As you may have noticed, sometimes I like to get really match-y. I just makes me feel really silly and a little bit like I'm wearing a costume. To some of you that might not sound like desirable criteria in an outfit but it sounds just about right to me. Because if you can't have fun with your clothes, how in the hell you gonna have fun with anything else. That one didn't really work did it?
Do you ever get all crazy and match-y? Does it make you feel like a grandma in the best way possible?
♥elycia