There is something you should probably know about me: if you offer me vegan baked goods I will not turn you down.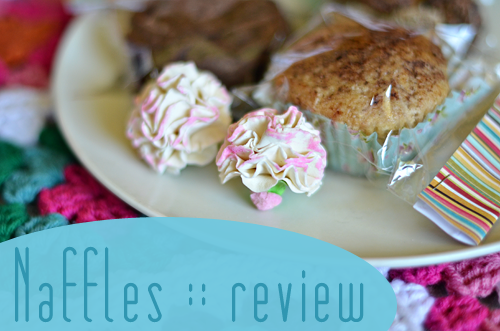 Nathalie, the lady behind
Naffles
, is a vegan baker from Toronto who has recently started selling baked goods from home so that she can share her delicious creations. Nathalie asked me if she could send me a little sample package to taste and possibly review and I obviously said yes. Remember that thing I told you about me & vegan baked goods?
The only thing that sucks about doing this review is that all the treats have been eaten and now I have to look at photos of them and talk about how yummy they all were. Tough life.
Here is what Nathalie sent over to me as well as what I thought of it.
Toasted Coconut Cupcakes
I am a huge fan of coconut so as soon as I saw them I was pretty sure that I would love these cupcakes. They are made with coconut milk and I could definitely taste it which was a major bonus for me. The texture was just right (moist but not too moist) and the chocolate ganache filling was a really fantastic addition. When cupcakes don't have frosting on top my mind plays tricks on me and tells me that I am actually eating a muffin so I kept thinking muffin as I was eating my cupcake. Not a bad thing at all and either way this treat is absolutely amazing.
Double Chocolate Chip Cookies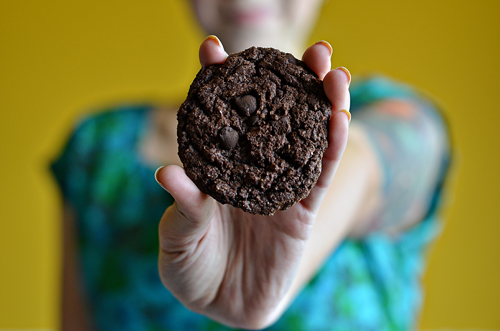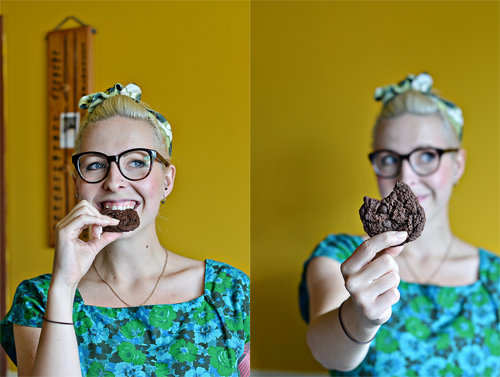 I don't know about you but I like when my chocolate cookies taste the teensiest bit salty. That's why I love Oreo's so much. Ok, sorry, why am I talking about Oreo's? Oreo's have nothing on Nathalie's chocolate cookies. These are exactly the type of cookie that I love. They were not too hard, not too soft with a perfectly chewy texture and that very important slightly salty taste I was talking about. I don't think I can say enough good things about these and I am craving one so badly as I am typing this out. They very well may be my new favourite cookie.
Truffles
Nathalie sent along truffles with three different coatings: cocao nibs, toasted coconut and cinnamon/cane sugar. I think out of the three the cinnamon/cane sugar ones were my favourite but that is likely to change depending on my mood because they were all fantastic. While I can't really choose a favourite out of all the goodies Nathalie send the truffles in general were Ivan's favourite. We ate them strainght out of the fridge and they were so good that way! The chocolate on the inside was so creamy and delicious.
The ingredient lists for all of the baked goods were delightfully simple and I can't stress enough how delicious everything was. So fresh and yummy.
Ok, so now that I've made you totally starving you should absolutely go check out
Nathalie's blog
if you are in the market for some yummy vegan treats. If you include '
ELYCIA15'
in the subject of your email to Nathalie she will give you 15% off of your order.
♥elycia