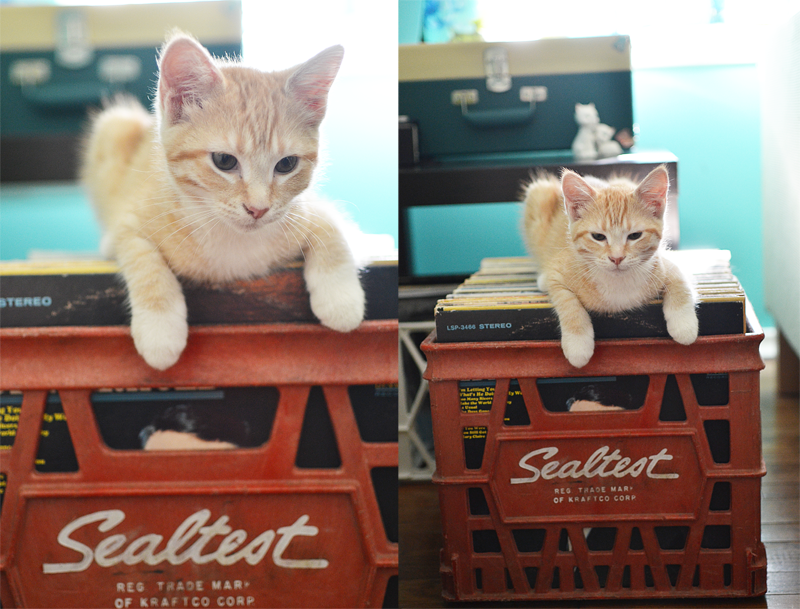 Ivan and I finally gave our new little fur baby a name. I would like to formally introduce you to
Princess Log Lady
.
We were really leaning towards a Twin Peaks inspired name because we are kind of obsessed. On our way home from Erie I suggested The Log Lady and it made us laugh the most out of all the names we thought of. We didn't settle on it right away and then I started calling her Princess when she was nameless. Ivan and I decided to keep the 'Princess', drop the 'the' and we settled on Princess Log Lady.
Mostly I call her Loggie or Princess or Mrs. or Baby. Come on it's my first girl kitty, I'm taking advantage of all the silly girly names! Ivan's current favourite thing to call her is Poopie Pants...I'm assuming because she farted in the Photobooth and Ivan thought she was pooping. We have also discussed throwing Margaret into the mix of names (that's the log lady's real name). She is going to be one confused kitten.
Good news though! Farva is being much nicer to our new baby and Anakin is getting there, although a bit slower. Farva has even given her a few kisses here and there. Yesterday we took Loggie and Farva outside on leashes together and they loved it. I think they will be best friends soon.
I hope everyone is having a good weekend!
♥elycia
PS. Kaylah, I know you will forever call her Quarters and I'm ok with that.
Double PS. Happy birthday Chantilly!!!!