you guys will not believe it...i found my dress last saturday!
i told you
that i had already pretty much decided on my plan and that i was just double checking...well i am so glad i did!
i am dyyyyying to show you the dress but i can't because ivan reads my blog once in a while and he doesn't want to see it. but let me just tell you...it is perfect! it is exactly what i was looking for and i love it so so much. i can't wait to pick it up...i might wear it around the house. no, i won't...
probably.
i can however tell you what my previous plan was. remember the bridesmaid's dresses i showed you?
i wasn't finding any shorter length wedding dresses so my plan was to get the strapless bridesmaid's in ivory and fancy it up with accessories. i still love that idea...so if anyone out there wants to use it you have my full support! i think it would look so pretty!
also, i can show you some of the dresses i didn't choose, haha. we took photos of all of them so i could look at them in photos as well as the mirror (surprisingly helpful!). so here are the dresses i said no to...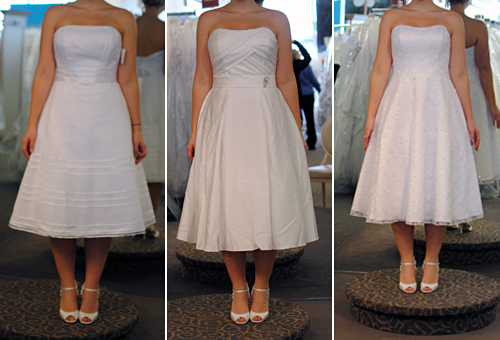 those won't be my shoes...but i am thinking peep toe. these dresses are nice but wait until you see mine! it is like 1000x prettier than all of these put together.
hopefully next week i can show you our wedding invitations. i plan on drawing them this week :)
♥elycia