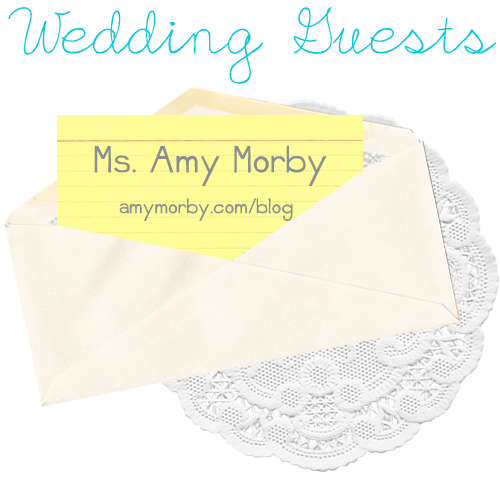 I feel so lucky to have met Amy (in blog land)! She really is one of the sweetest girls out there with the added bonuses of having great style and an adorable cat! I know you will love this post, I sure do!
_________________________________
Hey there, all you pretty ♥elycia readers! I'm Amy from
A is for Ampersand
, and I am insanely excited to be guest posting here on Elycia's amazing blog today while she is out and about living it up in wedded bliss.
Anyone who knows me can attest to my raging thrifting addiction. I thrift at least 3 times a week and have a running checklist of things I search for with each trip. What I really love about thrifting, though, is the chance to find stunning vintage pieces at an affordable price that can easily be worked into a modern wardrobe. In fact, all of the pictures in this post contain items I bought whilst thrifting that were all $10 or under.
All you need to become a grade-A thrifter is a vision for potential and a few thrifting tips:
1. Go often and know when to go
Thrifting requires a lot of diligent searching. New things hit the shelves daily, so you never know what you're going to find. If you REALLY want to be hardcore, call your thrift store and see if there's a certain day of the week or a time of day that new things are brought to the floor.
For example, my aunt owns a thrift store, and I know that they shut down early on Thursdays to put new things on the floor after 7pm. That means the ideal time to thrift there is early Friday morning when the pickings are fresh!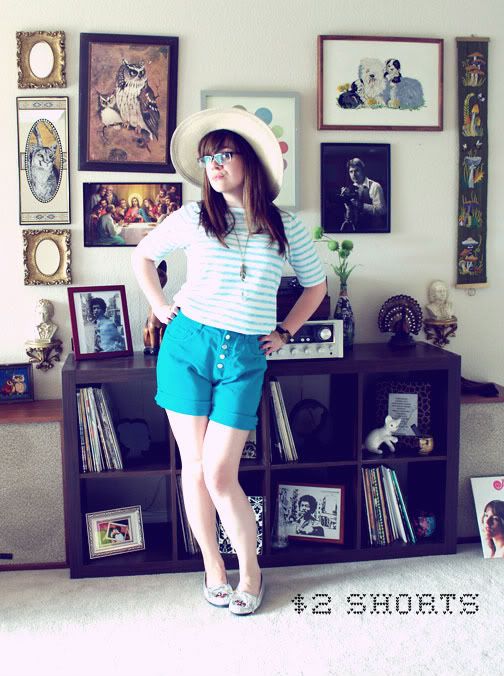 2. Know your vintage
While thrifting doesn't always have to be about finding legitimate vintage pieces, it never hurts to know a little more about what you're buying so you don't pay too much.
An item lacking a care label may mean it's pre-1970s as these have only been a requirement in the last couple of decades.
Usually a metal zipper indicates an item pre-1980s while a nylon zipper means 80s and onward.
Check out the construction of the piece. If it's handmade or has pinked edges, you have an older garment, whereas a serged seam means a newer garment.
Look for a union tag. If you see one of these 1/2" x 1/2" red, white, and blue tags in there, you've got a garment that's at least 20 years old!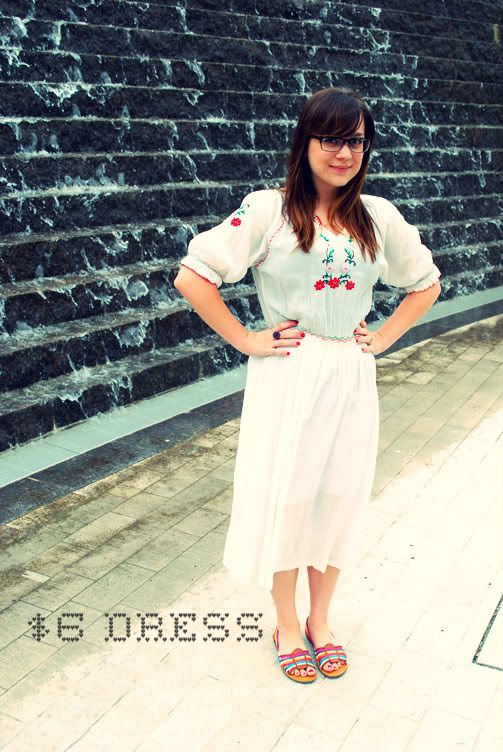 3. Go with an open mind!
Sometimes my sister thinks she wants to go thrifting with me until she sees the things I pick off the racks. You just have to have a vision! Some vintage pieces just need a little modern styling. My favorite modernizing tricks are adding a belt, throwing on some funky wedges, or dressing something up or down with jewelry.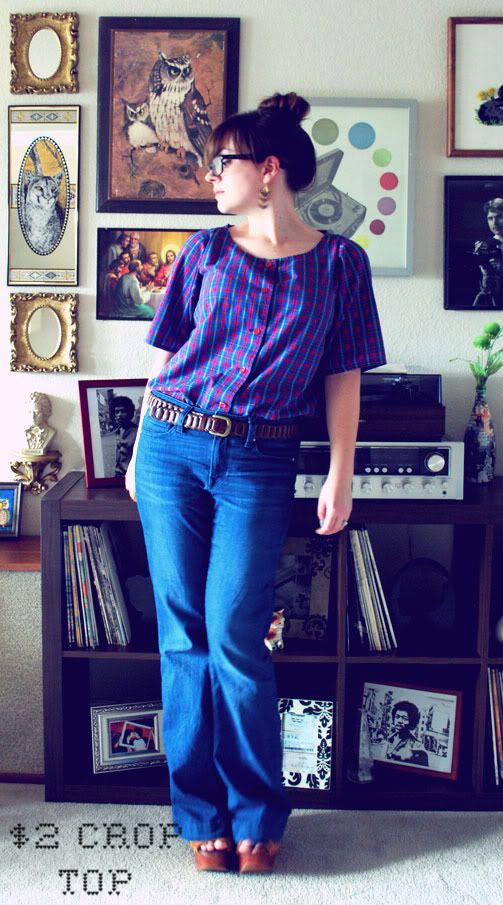 4. Learn how to do simple alterations
This tip goes right along with tip 3. If you learn how to do a simple hem or how to take something in, a whole new world of thrifty glory opens up to you! Every single piece in this post, besides the plaid shirt and the boots, was altered by me, and trust me--I am NOT a great sewer. :)
If you are looking for a completely perfect sewing class, check out
Home Ec.
That's where I started my sewing endeavors last summer, and I have since carried on with a personal sewing teacher. It is the best investment I have EVER made. I promise!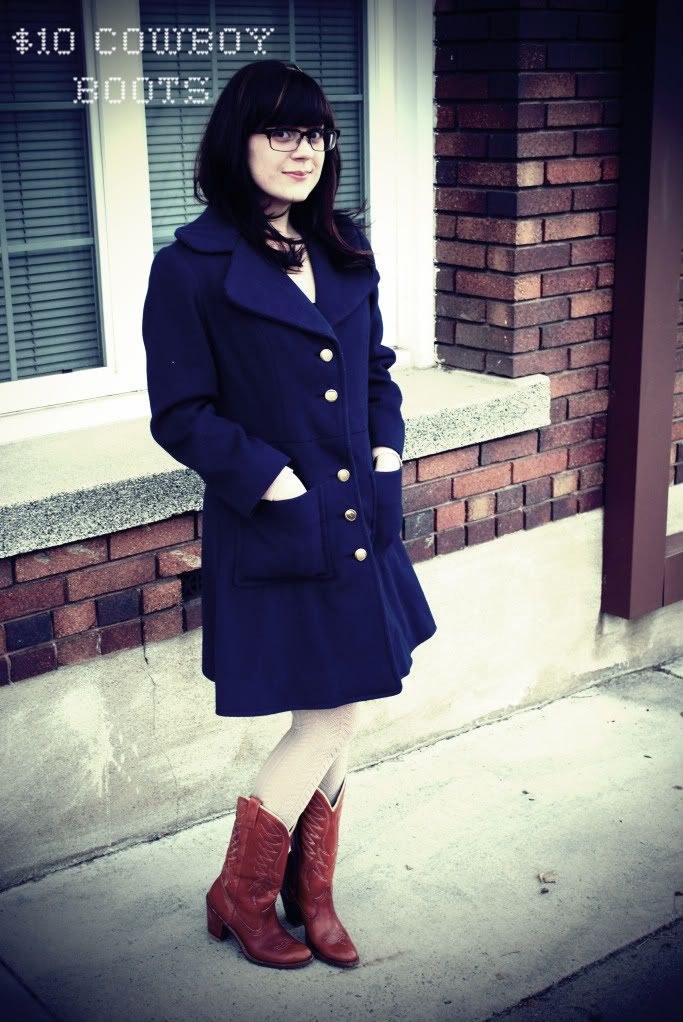 5. Find shops off the beaten path
Here's my biggest tip for you--avoid thrtift stores in college towns. Having lived in one for 3 years, I can tell you that these will always be picked over and crowded. I tend to have the best luck at small, hole-in-the-wall thrift shops that are independently owned. I also have a lot of luck in wealthier/older areas.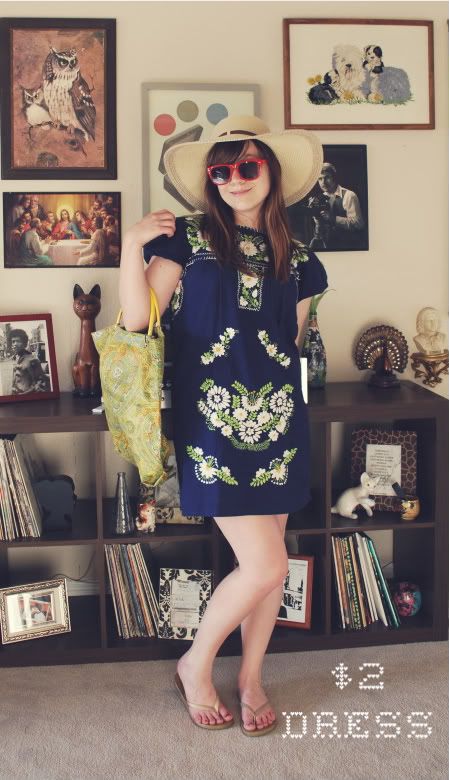 6. Don't be afraid to get down in there and dig!
I can't tell you how many times I've found an absolute treasure buried in a random section. This might be my favorite tip because this is what thrifting is all about--the hunt!
Remember to search every single section when you go thrifting (if you have the time, of course) because things will be misplaced in the wrong sections more often than not. This little embroidered dress above, for example, was buried in a pile of house dresses. Definitely NOT a house dress, so don't be afraid to look in sections you normally wouldn't! You never know what you might find.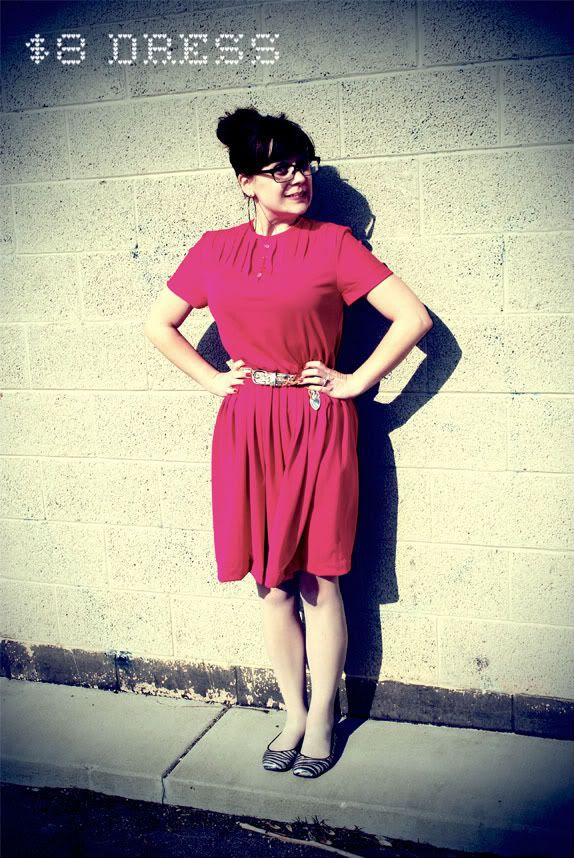 7. Don't ever, ever, EVER let me hear you say "Oh, I could never pull that off!"
Number one rookie mistake of thrifting--thinking you can't pull if off. If YOU like it, and YOU feel good in it, that's all that matters! I think my #1 thrifting/vintage-wearing tip is to work it. If you're going to wear vintage you have to work it and wear it with pride!
Whew. There you have it. Now go out and thrift like you've never thrifted before! Are you a big thrifter, too? What are your go-to thrifting tips?
And if you happen to find something amazing, I run a little feature called
$2 Thrifty Thursday
where I feature a reader's $2-$5 or under thrifty find along with something I found that week. It's always a good time and always inspiring, some come on over and visit!
_________________________________
Amazing! Thank you so much Amy, you are fantastic!
♥elycia