This past weekend Ivan and I met up with
Kaylah
and Kevin for a bit of camping. Excuse me...cabining. I was told multiple times that camping in a heated cabin with a hot tub is not really camping. Whatever it was, it was super fun!
Kaylah and I both took a photo an hour on Saturday to share our day with you.
6 am :: Early start with tea and granola bars for the road.
7 am :: Pretty morning light and our GPS that kept falling on my knee because the windshield was so cold that it wouldn't stay stuck.
8 am :: Across the border. There was just enough snow to make the trees look super pretty!
9 am :: A little car snack, yummy peanut butter filled pretzels.
10 am :: I also wrote out some directions because on the website for the cabin it said that some GPSs take you down the wrong roads and you can't turn around! Yikes. Luckily our GPS must be pretty smart because that didn't happen.
11 am :: Our adorable little cabin. "Hot Tub Shut Off?" Never.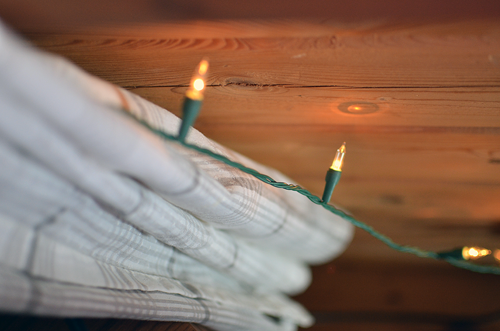 12 pm :: the cabin was decorated inside and out with Christmas lights. So pretty!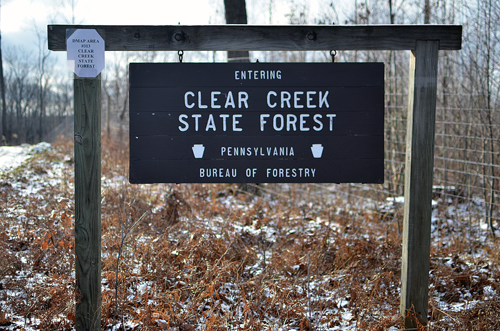 1 pm :: We drove and drove and drove to get to Clear Creek and...there wasn't really anything there so we turned back around. We did pass by some cute cows though so I think the drive was worth it ;)
2 pm :: Picture of a picture.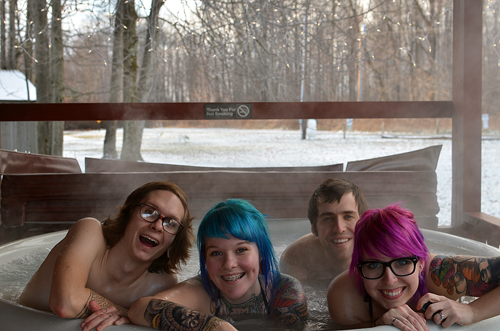 3 pm :: We spent a lot of time in the hot tub chatting and enjoying the warm water and cold air. So much fun! Oh! And when we were in there later that night, a short, fluffy little kitty came to visit us.
4 pm :: After a few failed attempts we made a successful fort. Well, semi-successful. We were worried that the guy who ran the cabins was going to pop by and see the mess we had made!
5 pm :: The game of choice inside the fort. The boys won one game and the girls won one. We meant to have a tie breaker game but the hot tub sure does make you sleepy!
We finished the evening with yummy grilled cheese sandwiches made by Kevin and then more hot tubbing.
The next day we ended up in Erie to visit an estate sale, grab some yummy food and of course visit the mall photo booth. Another super fun weekend with our favourite American pals. Can't wait to do it again soon!
♥elycia
ps. Later today I will be posting a super giveaway so pop back to check it out!