I am not a goal setter by nature. Goals can be kind of scary sometimes and I often shy away from them so that I don't end up with a reminder in list form of all the things I wanted to do but didn't get around to. I'm sure some of you can relate! However, lists do help me get things done so I decided to take the plunge again this year and make a list of things I would really love to accomplish. I choose things that will make me happier and that I genuinely want to do.
Originally when I was thinking of things I wanted to do I ended up with a page long list! I decided to break them into categories for blog purposes. This list pretty much covers everything!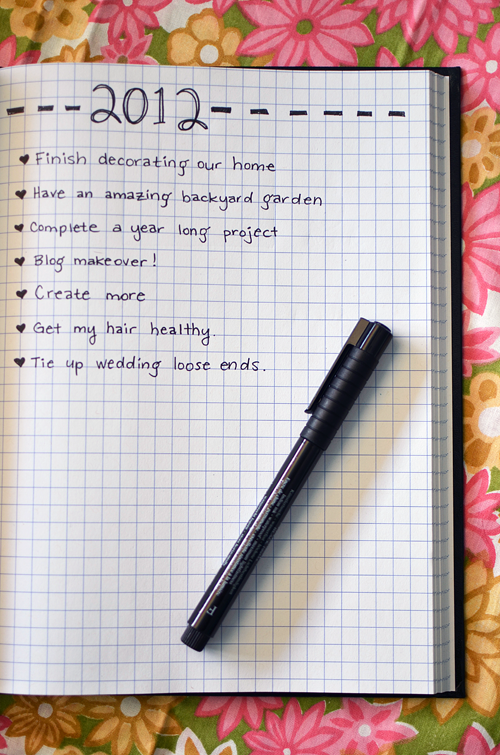 :: Finish decorating our home ::
When I say "finish" I mean "get to a place where I love spending time in every room". So far we have the living room and kitchen painted and decorated in a way that we like. I would like to hang more photos/art in both rooms but they are looking pretty good already. That leaves my studio/office (in the works as we speak!), our bedroom (also in the works), the guest room, our crazy awesome room in the basement with red shag carpet (we have a super fun plan for this room!), the main room in the basement, our music room and the bathrooms. Sounds like a lot but I'm not worried. Decorating bit by bit is so much fun!
Also tied in with decorating our home are some sub goals: host a housewarming, do a video home tour, as well as some specific home decor projects I have in mind.
:: Have an amazing backyard garden ::
Ivan and I are both pretty pumped about this! We can't wait for the spring to arrive so that we can turn our backyard into our own personal produce section. Our house came with three fruit trees and a grapevine so we are already well on our way.
:: Complete a year long project ::
So far I have abandoned not one, but TWO attempts at a 365 photo project. If I miss a day by accident I basically immediately give up. This year I thought of a really fun daily photo idea. I actually have three different year long photo projects in the works. I will tell you about each of them later. I will feel so accomplished if I finish even one of them!
:: Blog makeover ::
As much as I love my current design I really want to give my little online home a makeover. I have started a few new looks in the past but I end up ditching them because they just don't seem good enough! I have a few ideas for a new look and I am excited about trying them out.
:: Create more ::
This actually has a ton of sub goals. I want to create art for our home, complete at least one large project (I'm working on my first crocheted afghan as we speak!), make more videos (for the blog and for fun), work on some exciting projects I have up my sleeve, diminish my stash of hoarded craft supplies by using them, etc...
:: Get my hair healthy ::
I was kind of not so nice to my poor hair last year. As fun as the colours were, the bleaching did not do my already dry hair any favours. Especially when I bleached it myself. I am now dealing with an accidental mullet because the top layer of my hair broke up to where my roots were the last time I bleached it! I'm not saying this will happen to you if you bleach your hair because I have seen many cases where it doesn't happen...I just wasn't conditioning as much as I should have been. So...if you are going to bleach...condition a lot! Duh, right? Anyways, I am going to try to be kinder to my hair this year.
:: Tie up wedding loose ends ::
We still have to send our wedding thank you cards, have photos printed and (you are going to think I'm awful) I need to finish buying gifts for my bridesmaids! I gave them each a hair piece from
Hive & Honey
as well as a pouch from
The Dainty Squid
but I really want to give them each another little special something. I am such a slow gift giver because I want it to be really good! Oh, and one last wedding loose end...I still haven't changed my last name!
I also have a few blog related goals that I didn't write a heading for. It would have been "Blog Stuff". I want to maintain and grow my blog friendships as well as make new ones. I want to leave people more comments; if I think something is awesome I should let that person know!
Did you set any goals for yourself this year?
♥elycia