I think it is about time to introduce you to someone...err...something very special. Meet my blog planner, aka the best thing that has ever happened to me.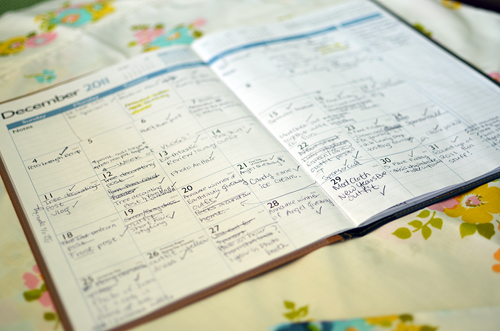 Ok, maybe I'm exaggerating a little. Let me clarify...this is the best blog organization tool that has ever happened to me.
I used to have dreams of being a more organized blogger (isn't that a normal dream?) but all my previous attempts did not work out too well. Sure, I sometimes scheduled things in advance/wrote down good ideas but I did not have a consistent method of keeping up to date and once in a while I would find myself scrambling to think of something blog worthy. I probably shouldn't admit that, right? ;)
Well, as soon as I saw this little beauty with the whole month laid out on one page with lots of writing space for each day I knew that my blog dreams were about to come true. It is a 2012 calendar but it actually started in December 2011 and I couldn't wait to start filling it with ideas.

I have found that seeing the whole month at a glance is absolutely essential for me to be able to stay on top of things. I used my new little friend for the whole month of December and it has made blogging even more enjoyable for me than it already was. There is a section along the side/bottom for Notes and Things to Remember that I use to jot down things I want to blog about, ideas for DIYs, as well as little reminders for other blog related things that I don't want to slip my mind. My mind can be pretty slippery at times and it has been so helpful to be able to write down anything that pops into my head.
Planning what I want to post about has been helping me to be more productive. This is very important to me now that I am working from home. I want to maximize every minute! When I look at my planner I see what I want to post about on certain days and I can make sure that I have all of the appropriate projects done/photos taken with plenty of time. Also, I can work on multiple posts at once or pick and choose what I feel like working on that day. Scheduling my DIY posts in advance has actually been the most helpful thing to make sure I complete them. I love making things and this is helping me set aside the time to do so.

An added bonus to being more organized is that it makes me more creative. When I am not worrying about what I am going to blog about that day my mind has more time to wander. I think of my best ideas when I just let my mind wander. I make sure that I always have some way to record my ideas and then I make sure I transfer them to my blog planner.
In case you can't tell, I really love my blog planner. I am planning on making myself one just like it for next year. The only problem with this one is that it is not that cute so when I make my own I will fix that.
Do you have some way of staying organized blog or otherwise that you love?
♥elycia