My two kitties are basically complete opposites of one another in so many ways. Anakin loves being brushed, Farva tries to attach the brush. Farva likes having his teeth brushed, Anakin acts like you are trying to pull out his teeth. Farva loves going on his harness, Anakin feels too embarrassed because he knows he's a cat. Anakin removes himself from uncomfortable situations and hides under the bed while Farva plants himself right in the middle of them and dares you to question his logic.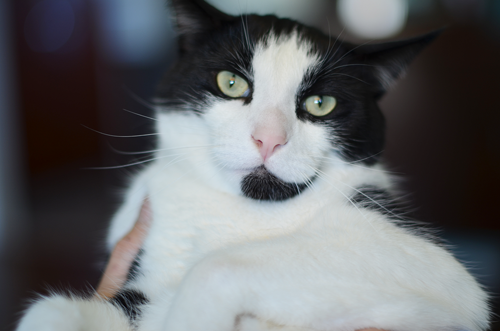 We are having some
house guests
at the moment (including a kitty loving 2 year old) and Farva is basically permanently grumbling about something. I keep telling him that if he wants to be left alone he can't sit there staring at people and looking cute but he just won't listen.
I feel a little bad for the poor guy but I really need to get a video of Mr. Cranky-Pants in action.
Do you have a cat who insists on staying in situations that make him/her uncomfortable?
♥elycia