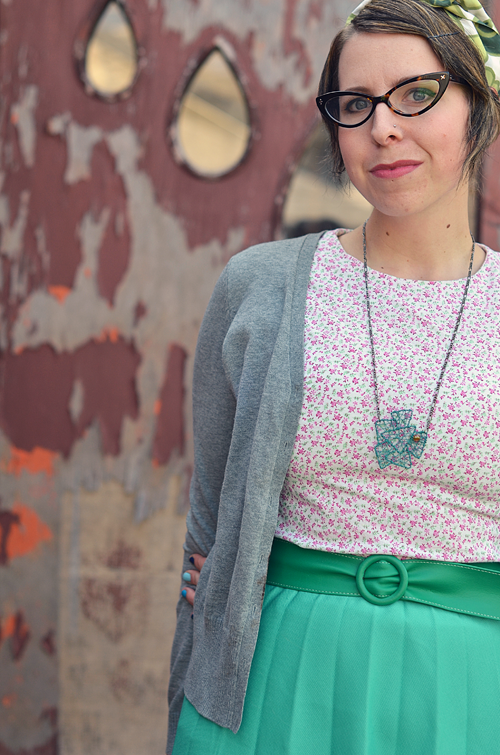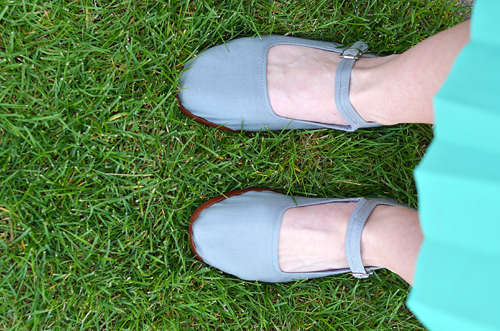 :: head to toe ::
scarf :: thrifted
cardigan :: H&M
belt :: thrifted
skirt :: thrifted
shoes :: Urban Outfitters
Let me just start by saying that this outfit was a huge hit with Ivan's Dad & Grandma. I wore it when we went there last week when we visited them and Ivan's Dad said I looked like I was from the 50's (yes please, I will always accept that compliment) and Ivan's Grandma was very interested in my skirt and even more impressed when I told her that it was second-hand.
I love how green our grass is getting! I never fully realize how much Winter bums me out until Spring really begins. This year I have become very aware of the trees and flowers blooming and I blame home ownership. I find myself checking out people's trees and garden's like the nosiest nosy person ever. I wonder if they see me staring at their house and wonder what the heck I'm so interested in. Well it's either their garden or their home decor. I am also a major window peeker especially if we are walking around at night. This is why I always close our curtains when it gets dark out. I don't want to be peeped on while I'm having an after dinner dance party in the living room!
Anyways...back on topic. I am pretty in love with my necklace and you should definitely pop by in a few hours if you are interested in winning one for yourself! The length is just perfect and the colour makes me very happy.
♥elycia