Oh things I didn't buy, you are so fun to look at and sometimes laugh at.
What: Owl statue
Where: Value Village (Upper James)
Why I loved it: This guy would have looked so good in our Twin Peaks inspired 'Black Lodge' room. He was fairly large and heavy and just generally cool and handsome.
Why I didn't buy it: $10 was more than I wanted to spend on this. I like my thrifted owl statues to be a little cheaper.
Do I wish I bought it: Not for that price. Sorry owl buddy.
What:
Vintage dress
Where: Consignment/Vintage store in Guelph
Why I loved it: Are your eyes open? Then you can see why I loved it. It is one of my favourite colour schemes for dresses and the shape was really pretty.
Why I didn't buy it: Well, I found this after I decided to eliminate my clothes buying. Why the heck did I try it on then? Sometimes just trying something on lets me see how it looks and then move on. Also, this dress ended up being a bit too big so that was double confirmation that I shouldn't buy it.
Do I wish I bought it: Half of me does but it is kind of nice just to have this photo to look at.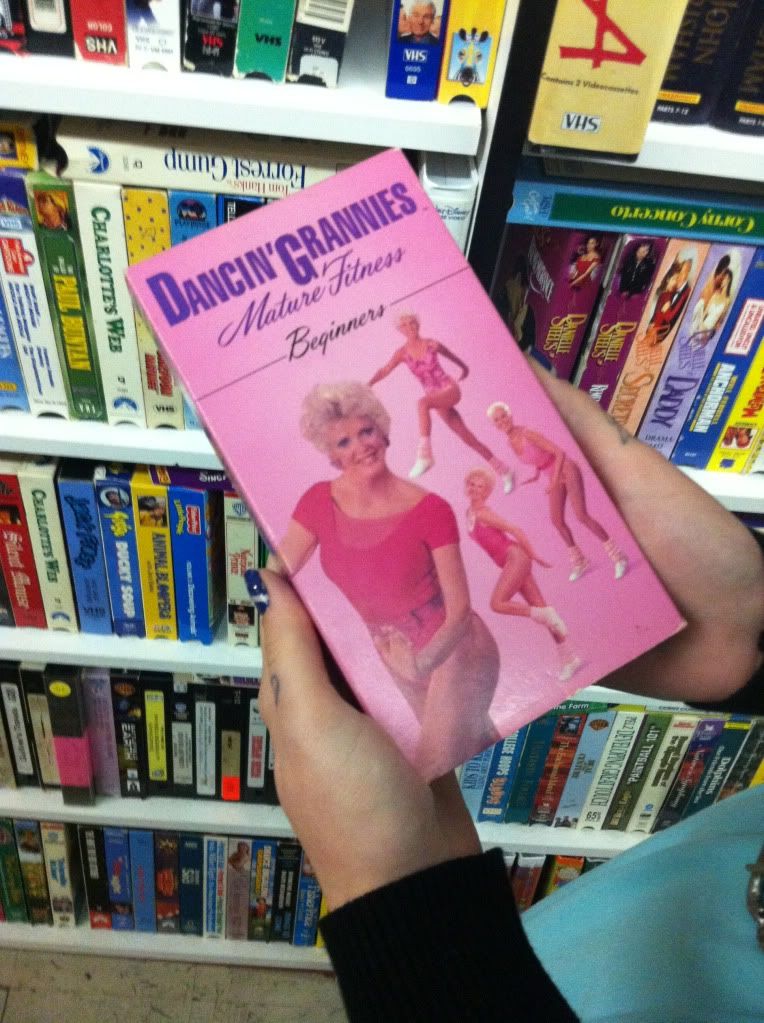 What:
Dancin' Grannies workout video
Where: Junk shop in Erie
Why I loved it: Those Grannies are hot! Seriously, I want to look that good when I'm old. Also, it's hilarious.
Why I didn't buy it: Realistically, will VHS exist when I'm ready for 'Mature Fitness'. Probably not. You will most likely be able to watch workouts straight from your brain.
Do I wish I bought it: As much as I would like to own this, I'm ok with my decision.
What have you left behind lately?
♥elycia