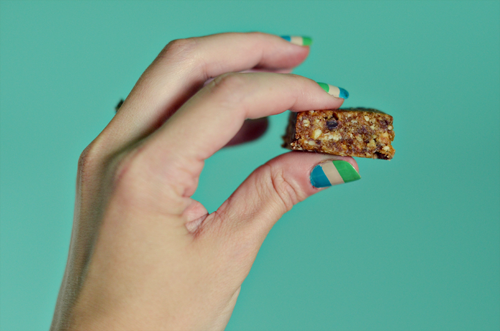 Ha! Sometimes even more than really pretty food photos I like ones where the food does not look very appetizing. It just makes me laugh. This photo has me giggling as I'm typing because it totally looks like a turd.
Ok, so now that I've got you really hungry I wanted to share this really yummy recipe so that you can make your own delicous bars that look like pieces of poop. (
Ok, don't worry, my poo doesn't really look like this.)
Ivan kept asking me to make some kind of granola type bar and I somehow stumbled across
this recipe
on Foodie with Family for Homemade Larabars. I had never tried a Larabar but the recipe sounded good so I tried it out.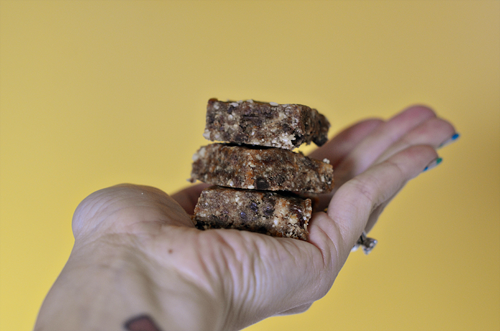 Sooooo good. I'm not going to repost the recipe but I will mention the modifictions I made. Make sure you
check out the original recipe
so you know what I'm talking about.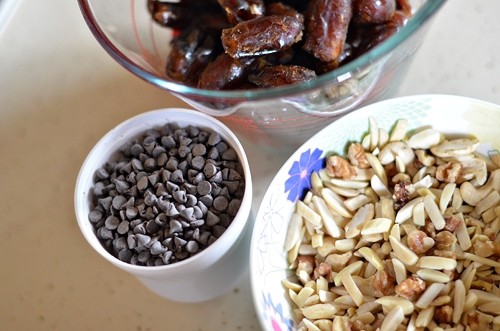 1. Instead of using just almonds I mixed up about 1 cup of almonds with 1 cup of walnuts+cashews. One time I used peanuts and almonds because I was short on nuts. All variations were equally delicous.
2. I don't currently have a food processor so I used my Magic Bullet (greatest thing ever) which is much smaller. I ground the nuts in batches and put them into a big bowl after they were beat to a pulp by the bullet. Then I ground the chocolate chips in batches and added them to the nuts in the bowl. Are you getting the idea? Just in case you're not...then I processed the dates in the bullet in batches and added them to the bowl too. I mixed the nuts, chocolate and dates with a wooden spoon and then added all the peanut butter at the end. Obviously a food processor is much easier but these aren't too tough to make without one.
They are seriously yummy and I want to try making a coconut version soon. Let me know if you try these out!
♥elycia