Remember
the nest
that we found in our grapevine? Well, sometime the week before last they hatched! There ended up only being three eggs despite what I read on the internet. Now I don't know if I can believe anything I read on the internet. Maybe you shouldn't even believe that there are in fact three adorably ugly baby birds in my backyard. Well in case you have lost all faith in the internet, here's some proof.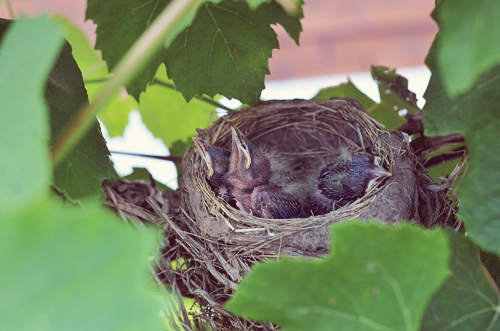 I had been watching the birds through my office window for a while but I didn't want to try to get a photo and scare the mom. It was so cute to see their little heads poking up to be fed! I took these not this past weekend but the one before and by that point it seemed that the mom was going away for slightly longer periods of time. Ivan was doing something in the backyard and called me outside to tell me that the birds were being cute and I could probably get a photo.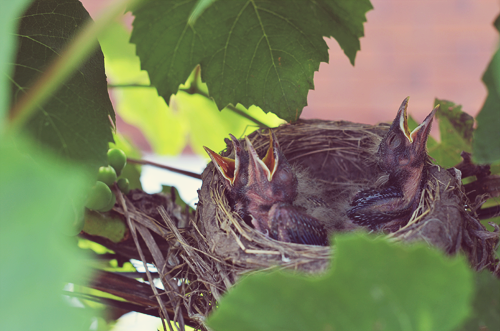 Don't worry, I didn't get too close or touch anything and the mom came back shortly after. She didn't abandon her babies because she could feel that I had looked at them. Actually, when the mom is in the nest we are able to walk really close to it and she doesn't fly away. Not that we purposely walk close to it to see if she'll fly away, it's just that we have things to do in the backyard and sometimes that requires walking kind of near the grapevine.
As of this past Sunday night or Monday morning all the babies had grown up and left the nest. They grow up so fast! I miss my little bird pals already.
♥elycia