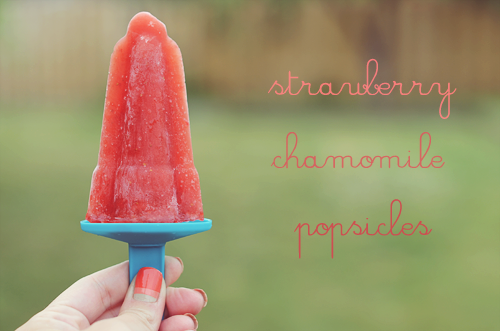 A few weekends back we bought a bunch of strawberries and I kind of had a feeling that we wouldn't eat them all before they went funny. My solution? Make popsicles! I bought some moulds a few months back and tried making coconut popsicles but they turned out kind of disgusting. I am happy to say that this batch turned out super delicious.
I was thinking about what I could put with the strawberries and then I thought about all of the chamomile we have growing in the backyard that I had yet to use. I decided that strawberry chamomile popsicles sounded really good.
I picked a little bunch of chamomile, stuck it in a small teapot with a strainer, boiled some water and let it steep and then cool.
Once my brew was cool I combined 1 cup of tea with an overflowing cup of strawberries & a few squeezes of agave in my blender*.
I blended it up, filled up my popsicle tray, waited a few hours and enjoyed a delicious, refreshing strawberry chamomile popsicle. I could really taste the chamomile which I love! Also, a side note...when I tasted what I had blended up out of the blender, I thought it was too sweet. However, when it was in popsicle form it was just right. I need to remember to make the popsicle mixture a little sweeter than I think I need to for perfect popsicles!
Just to recap this super simple recipe it was:
1 cup chamomile tea (made from fresh leaves but you could probably use regular tea)
1 cup fresh strawberries
Agave syrup (sweeten to taste)
Let me know if you try them or if you have a favourite popsicle to make!
♥elycia
*Blender courtesy of
Chantilly
. Thank you friend! It is being put to good use!!