Hi!
I think I have finally recovered from all of my travelling but I am experiencing major
Kaylah
withdrawl. We had such a great week and did a ton of fun stuff including make quite possibly the most ridiculous video ever. Editing that baby is on my to-do list for the day. I can't wait to share all the things that Kaylah and I worked on last week!
Travelling a lot means packing a lot and the one thing that I always bring with me is my laptop. I thought that I would show you what is in my laptop bag just so you know exactly what you will be stealing from me if you see me on my travels and decide to rip me off.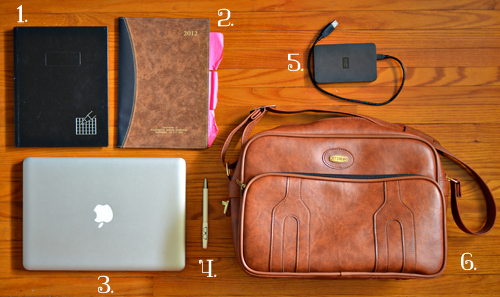 1. Notebook :: I use this for blog & random ideas, lists, drawings, planning, etc. It is my everything notebook and can get pretty disorganized but I like it.
2. Planner :: I have already gone on about
how much I love my planner
. It is still being heavily used and I really rely on it for my blog post schedule.
3.
MacBook Pro
:: My trusty computer that almost never leaves my side. This little guy is one of my best purchases to date.
4. 7 Year Pen :: Yep, it's my glasses pen again that everyone thinks is a pregnancy test in photos. When I'm travelling this pen gets carted around in my laptop bag.
5. Special Agent Dale Cooper :: Otherwise known as my external harddrive, this baby stores all of my photos and videos. Another great purchase, Dale Cooper keeps my computer from getting too full.
6. Jet Stream laptop bag :: I thrifted this bag after my super pretty laptop case from Target was not doing a great job. The Target case was ok, it's just that it didn't have a shoulder strap and when I started travelling with my laptop I needed something that I would carry more easily. This one is the perfect size and very sturdy.
Today I am going to try to tackle my inbox. If you are waiting for an email and think I'm ignoring you I promise I'm not. Emails have taken a backseat during my travels and then yesterday I was just too afraid to open my inbox.
♥elycia