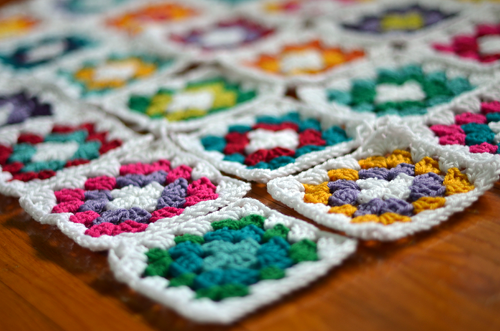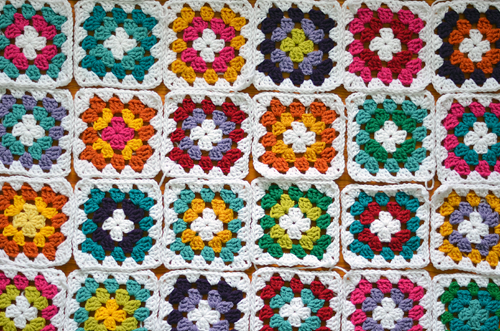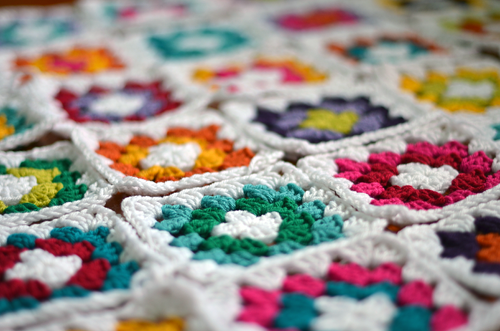 I am so excited about my granny square afghan progress, even more so after I laid them all out to take these photos. I started making squares right at the end of January and have made 36 so far but I still have a really long way to go. Call me crazy, but Ivan and I decided it would look cool if I made this the same size as the duvet cover on our bed...our king sized bed. So, this is probably going to take me a long time to finish. I love crocheting granny squares (they were the first thing I learned to crochet) and making them all in different colours for this blanket is keeping it really fun for me.
I am really excited about making blankets at the moment. I like the idea that they may be passed on for generations through our family and my grandchildren and great grandchildren will have fun choosing their favourite square on this granny square blanket. I don't usually think about things like that but it just keeps popping into my head as I'm working on these squares.
Ok enough being sappy! In case you are wondering, I did finish my
chevron afghan
(on schedule too) but I will show you that another time. Probably when we finally do a home tour which I'm sure will be sometime next year because those kind of things seem to take forever to get around to ;)
What are you working on?
♥elycia