Hello there,
Here I am again to reminisce about the ones that got away...thrift finds that is! There is quite a bit of heartbreak in this batch. Here goes...
What:
Owl/peacock (?) embroidery
Where:
Florida (Goodwill or Salvation Army, can't remember!)
Why I loved it:
The little guy is adorable and the colours are pretty great too!
Why I didn't buy it:
This thing was DIRTY! As adorable as it was it also grossed me out a little. I don't know if you are getting the full effect of how yucky this thing was from the photo. Also, this thrift store was the stinkiest one I had ever been in. It really smelled like pee and I couldn't be sure that this piece hadn't been peed on.
Do I wish I bought it:
Kind of! As gross as I just made it sound, looking at this photo makes me wish I had have taken a chance on it and tried to clean it up.
What: Cat plate
Where: Value Village
Why I loved it: Cats + yarn...need I say more?
Why I didn't buy it: I think I was trying to be good and not buy everything that I saw and loved.
Do I wish I bought it: No. For this one, looking at the photo and admiring it's cuteness is good enough.
What: Boy with Guitar art
Where:
Ohio (that barn place...help me out here
Kaylah
)
Why I loved it: I love this kind of picture and Ivan plays guitar so it reminds me of him.
Why I didn't buy it: I have no idea!
Do I wish I bought it: Heck yes! I can picture this in my office hanging on the wall in front of my desk. Or in our bedroom. Or the living room. It is adorable and I really wish I had have picked this little guy up.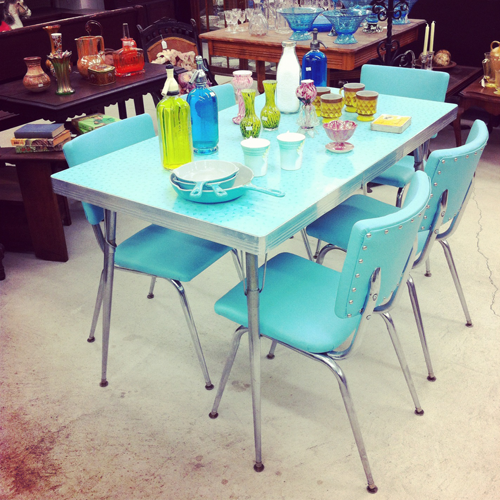 What: Table and chairs
Where: Antique Attic Avenue (EDIT)
Why I loved it: This is my dream kitchen table and chairs. It was the most perfect colour ever and it was in amazing condition.
Why I didn't buy it: The amazingness of this set was only surpassed by the expensiveness. Too much money!
Do I wish I bought it: Yes and no. It breaks my heart that I don't own this but I'm happy I didn't drop that much money on it.
Do you have any recent thrift finds that you loved but that didn't make it home with you?
♥elycia