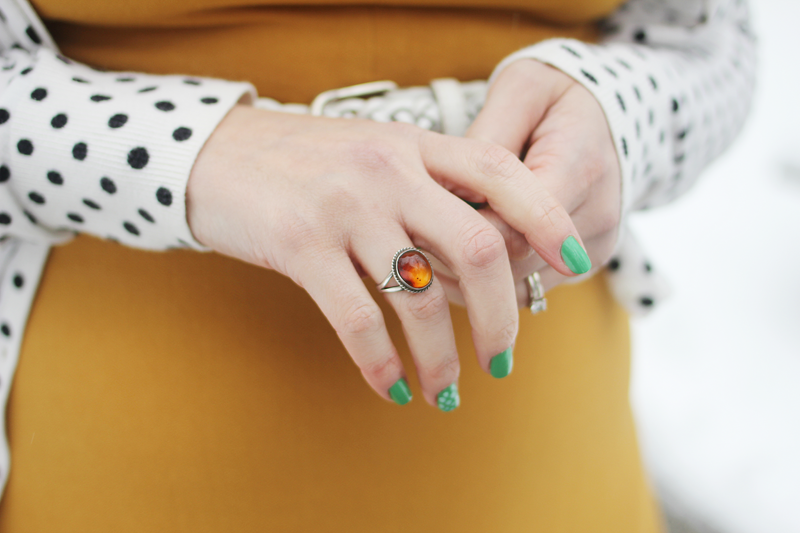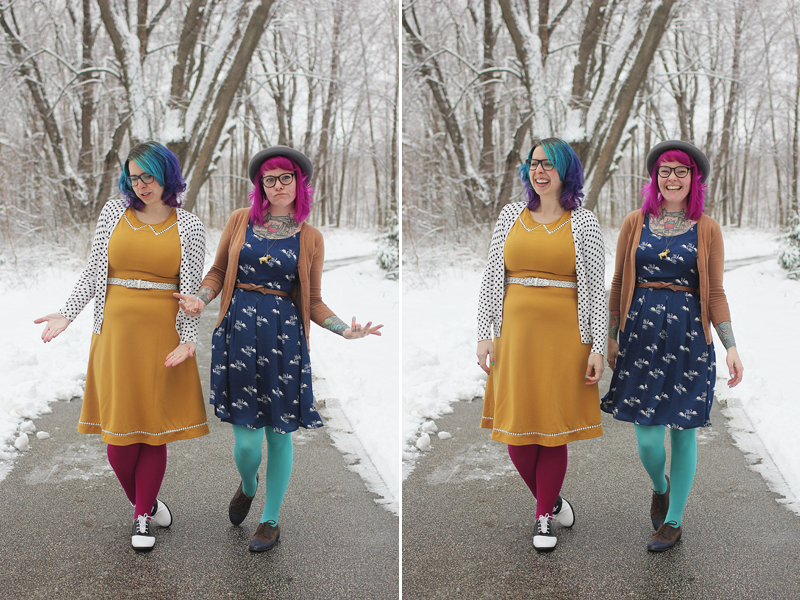 :: head to toe ::
glasses ::
Coastal
dress :: Author Outings Dress c/o
ModCloth
cardigan :: Old Navy
ring :: belonged to my Grama
belt :: thrifted
tights :: c/o
We Love Colors
shoes :: Who Could Be Saddle Shoes c/o
ModCloth
I am simultaneously totally thrilled and not that excited about this dress. I love the colour, the collar detail, the length and the cut...but it does not have the most flattering side profile for a pregnant girl. Other than that little detail though I am so crazy about it and can't wait to wear it all the time after this baby makes his way out. Oh yeah, and while we are talking about pregnancy related clothing problems, just ignore that tights line. They fit last time I wore them! Now they just don't go up over my belly. Oops!
Ok, now that I have pointed out everything that is wrong with this outfit which I probably should have just not mentioned and then most of you may not have noticed, I need to say how much I love the colour combo Kaylah and I have going. We always seem to accidentally match/compliment each other really well for our outfit photos. It's a gift. We don't even plan them in advance!
I really can't wait until our outfit photos are being taken on a beautiful, warm spring day. I hope that day comes soon because seriously I think I might snap if I see another snowflake!
Today I'm off for some blood work (so much fun). I hope you have a great day!
♥elycia